From Playing to Managing, Jirschele Excited to Be Back in Charlotte with the Knights
New Skipper Has His Dad to Lean on Tremendously When it Comes to Managing & More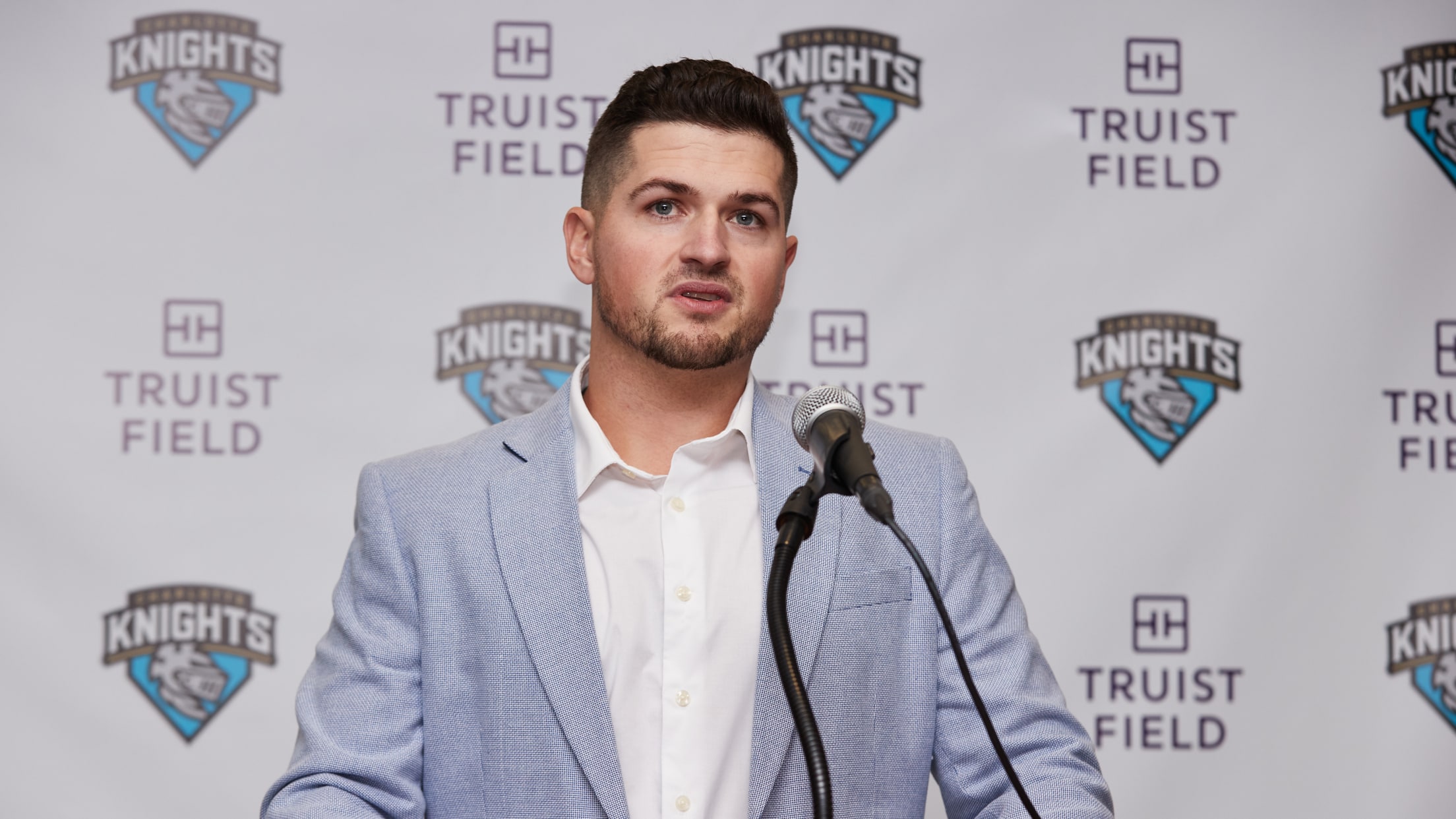 Knights new manager, Justin Jirschele, 32, spoke to the media on Wednesday, February 1, during an introductory press conference at Truist Field. (Brian Westerholt/Four Seam Images)
When the Charlotte Knights open the 2023 season in Uptown Charlotte on Friday, March 31 against the Memphis Redbirds, there will be a familiar face managing the club – Justin Jirschele. On Wednesday, February 1, Jirschele was re-introduced to Uptown Charlotte in a press conference at Truist Field. A former
When the Charlotte Knights open the 2023 season in Uptown Charlotte on Friday, March 31 against the Memphis Redbirds, there will be a familiar face managing the club – Justin Jirschele.
On Wednesday, February 1, Jirschele was re-introduced to Uptown Charlotte in a press conference at Truist Field. A former Knights player, the Wisconsin native talked to the Charlotte media for the first in nearly nine years. Wednesday's press conference was also the first time he donned a Knights jersey in nearly eight years.
"I'm extremely grateful to the Knights and Chicago White Sox for having me back to lead this ballclub," stated Jirschele at Wednesday's press conference. "We're going to lay it on the line every single night."
On his way up through the White Sox system as a player, Jirschele appeared in 14 games with the Knights in 2014 and two more with the club the following season. He hit .250 (11-for-44) with the Knights in 2014. Overall, he finished his minor league career as a player with a .277 batting average over four seasons (184 games).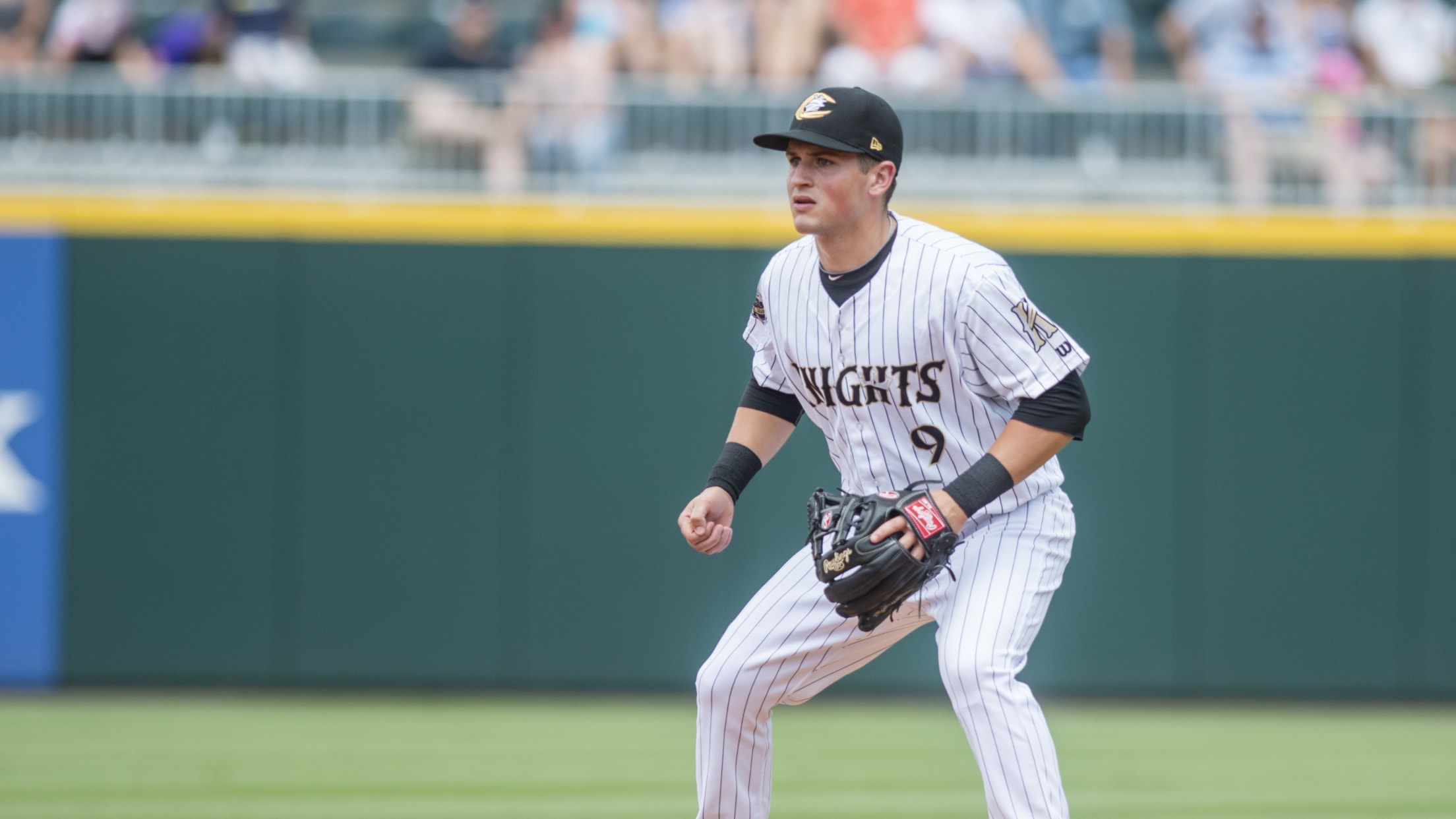 Since then, he's continued to work his way up the organization in a different way – as a manager. And, at just 32 years old, he's already a veteran.
The 2023 season will be his first managing the Knights – but his fifth managing in Chicago's organization. He made his Double-A managerial debut in 2021 with the Birmingham Barons and guided the club to a 62-56 record, falling just a half game shy of clinching a postseason berth. In two seasons with the Barons, Jirschele posted 123 wins. Prior to his time with Birmingham, he managed High-A Winston-Salem (2019) and Single-A Kannapolis (2017-18). He guided Kannapolis to playoff appearances in each of his two seasons as manager. He made his coaching debut in 2016 as the hitting coach at Kannapolis, just a year after hanging up his cleats as a player.
Managing is in his blood. Justin's dad, Mike, has spent 32 years in the Kansas City Royals organization – most of that time as a manager and coach. Currently, Mike Jirschele is the manager of the Triple-A Omaha Storm Chasers, a job he's held before. In fact, he even has his number retired by the Storm Chasers. He also has a World Series ring as a coach. Mike Jirschele was the third base coach for the Royals during their World Series winning season in 2015.
"He's probably my best friend," added Justin when talking about his relationship with his dad, Mike, at Wednesday's press conference. "I lean on him tremendously."
The Jirscheles will be heading to Arizona soon. Both of their organizations (White Sox and Royals) have spring training sites in Arizona – just a short drive away from one another. In fact, the two will be staying together during the duration of the spring season. It provides Justin with another way to look to dad, Mike, for some advice – if he needs it.
Justin Jirschele talks about the relationship, both on and off the field, with his father, Mike. pic.twitter.com/5U3mmkovw1

— Charlotte Knights (@KnightsBaseball) February 1, 2023
"He's been through it," remarked Justin, in refence to his dad's experience in the game as a manager. "He's seen anything that's going to come up that I've seen, he has seen it. So, I lean on him tremendously and trust in him."
While the Jirscheles are both managers in the International League this season, the two won't get a chance to face each other during the regular season. But, there's always the playoffs. Stay tuned!