Jirschele to Manage Knights for 2023 Season, Full Coaching Staff Announced
Wisconsin Native Becomes Third Former Knights Player to Become Knights Manager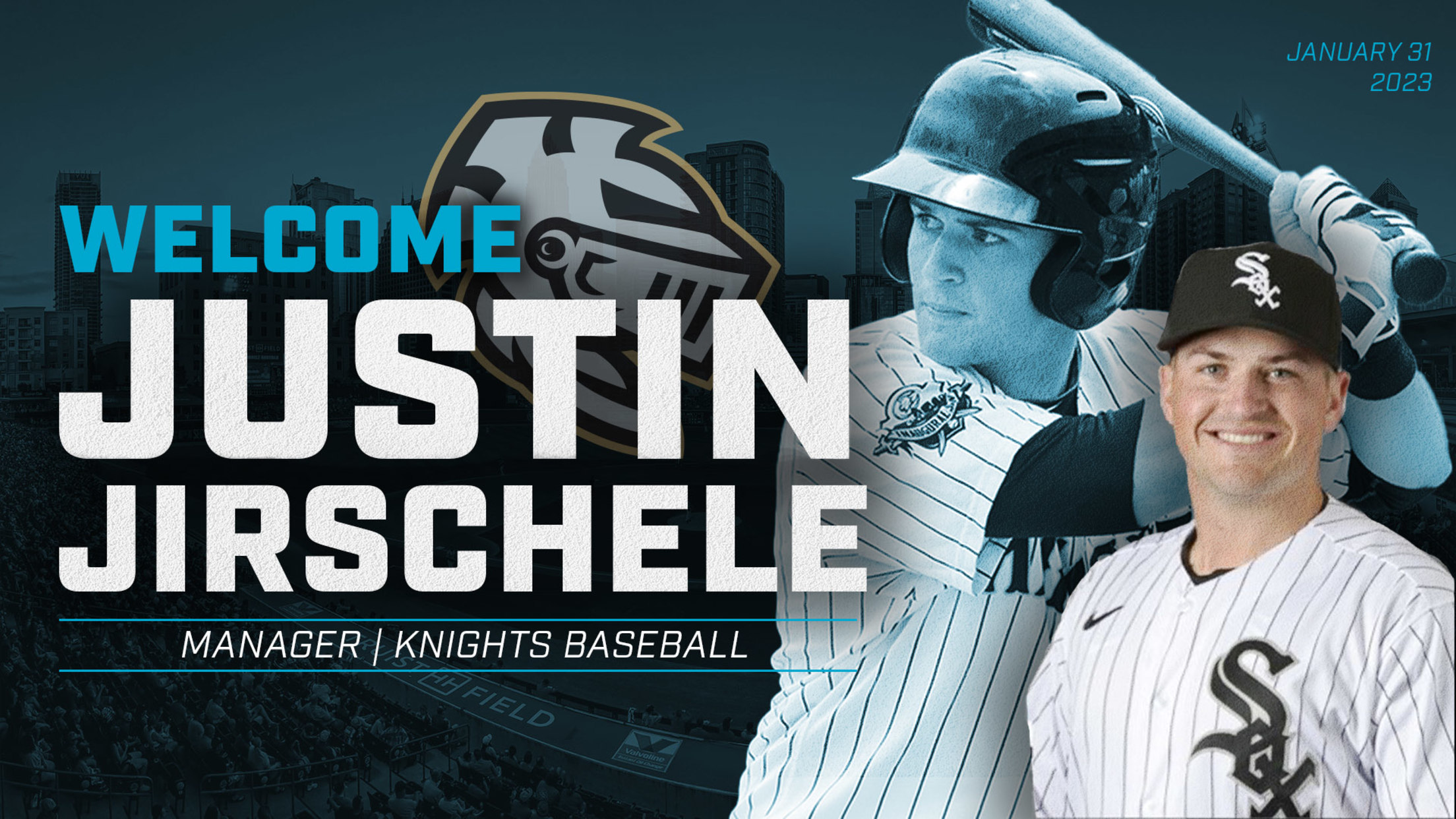 (UPTOWN CHARLOTTE, NC) -- Justin Jirschele, who played for the Charlotte Knights over parts of two seasons (2014-15), has been named as the team's new manager for the upcoming 2023 campaign. Jirschele, 32, will be introduced to the media during an introductory press conference at Truist Field on Wednesday, February
(UPTOWN CHARLOTTE, NC) -- Justin Jirschele, who played for the Charlotte Knights over parts of two seasons (2014-15), has been named as the team's new manager for the upcoming 2023 campaign. Jirschele, 32, will be introduced to the media during an introductory press conference at Truist Field on Wednesday, February 1 at 2:30 PM.
With today's announcement, Jirschele becomes the 24th manager in franchise history and the third former Knights player to manage the team joining both Joel Skinner and Nick Capra. Skinner, the all-time winningest manager in franchise history, played for the Knights in 1994 and managed the club for four seasons from 2012-2015. Capra played for the Knights in 1995 and managed the team for three seasons from 2002-2004.
Joining Jirschele in Charlotte for the 2023 season will be returnee Matt Zaleski (Knights pitching coach & White Sox assistant pitching coordinator), along with newcomers Cam Seitzer (hitting coach), Hyeon Kim (trainer) and George Timke (performance coach). Both Zaleski and Jirschele were teammates as players on the Knights during the club's first season at Truist Field in Uptown Charlotte in 2014. The two also served together as manager (Jirschele) and hitting coach (Zaleski) with Single-A Kannapolis in 2017 and High-A Winston-Salem in 2019. Additionally, former Knights hurler Donnie Veal will also serve as an assistant pitching coordinator in the White Sox system.
A native of Clintonville, WI, Jirschele enters his seventh season in the Chicago White Sox organization and first as manager of the Knights. He made his Double-A managerial debut in 2021 with the Birmingham Barons and guided the club to a 62-56 record, falling just a half game shy of clinching a postseason berth. In two seasons with the Barons, Jirschele posted 123 wins. Prior to his time with Birmingham, Jirschele managed Winston-Salem (2019) and Kannapolis (2017-18). He guided Kannapolis to playoff appearances in each of his two seasons as manager. He made his coaching debut in 2016 as the hitting coach at Kannapolis.
As a player, Jirschele appeared in 184 minor league games in the White Sox system from 2012-15, batting .277 (172-for-622). As an infielder, he appeared in 16 games with the Knights over parts of two seasons (14 in 2014 and two in 2015). A product of the University of Wisconsin-Stevens Point, Jirschele is a two-time Midwest Region Gold Glove winner and a two-time First-Team All-WIAC selection. His dad, Mike, is currently the manager of the Triple-A Omaha Storm Chasers. The 2023 season will be Mike's 32nd in the Kansas City Royals organization. He served as Kansas City's third base coach during the team's 2015 World Series Championship-winning season.
Zaleski, 41, returns to the Knights in 2023 as the team's pitching coach. The upcoming campaign will mark the eighth for Zaleski as a coach in Chicago's organization and fourth overall with the Knights. He began his coaching career in 2016 as pitching coach of Great Falls (Rookie). He later spent 2017 as pitching coach at Kannapolis and the 2018-19 seasons as pitching coach at Winston-Salem. Before his time as a pitching coach, the Arlington Heights, IL native appeared in a total of 316 games as a minor league pitcher (2004-14). He spent six of his 11 minor league seasons as a pitcher with the Knights from 2009-2014. He is the all-time leader in Knights franchise history in games started (74) and also ranks second in franchise history in innings pitched (437.2).
Seitzer, a native of Overland Park, KS, enters his fifth season with the White Sox organization and first with Charlotte in 2023. The 33-year-old spent the 2022 season with Kannapolis as the team's hitting coach. Previously, he spent one season as the hitting coach at Double-A Birmingham (2021) and one season in the same capacity at Great Falls (2019). As a player, he was drafted by the Tampa Bay Rays in the 11th round of the 2011 MLB June Amateur Draft. The University of Oklahoma product played eight seasons in the minors from 2011-18 and combined to hit .270 (636-for-2359). His final two playing seasons were spent in the White Sox organization (2017-18). His father, Kevin, played 12 major league seasons combined with Kansas City, Milwaukee, Cleveland and Oakland.
Veal, 38, enters his third season in Chicago's system and first as White Sox assistant pitching coordinator. The Jackson, MS native spent the 2022 season as the White Sox rehab pitching coach. Before returning to the organization for the 2021 season, Veal spent two seasons as a professional scout with the New York Yankees (2019-20). As a player, Veal was originally selected by the Chicago Cubs in the second round of the 2005 MLB June Amateur Draft. He was signed by the White Sox as a free agent on November 10, 2011 and spent parts of three seasons with the Knights from 2012-15.
Kim, 37, enters his sixth season in the White Sox system and first with the Knights. He spent the 2021 and 2022 seasons with Double-A Birmingham in the same capacity. Before that, he spent one season with Winston-Salem (2019) and one season with Advanced Rookie Great Falls (2018). Born in Tokyo, Japan, Kim is a product of Troy University (B.S. in Athletic Training). He also earned a degree from Auburn University-Montgomery (M.Ed. in Exercise Science).
Timke, a native of Suffern, NY, enters his 11th season in Chicago's system and first in Charlotte. Before joining the Knights, the California University of Pennsylvania product spent the past two seasons as the performance coach with the Birmingham Barons (2021 and 2022). Before that, Timke spent five years in the same role with High-A Winston-Salem (2016-20) and two with Kannapolis (2014-15). He made his organizational debut in 2013 with Great Falls (Advanced-Rookie). Before joining Chicago's organization, Timke spent four seasons in the Kansas City organization as a strength and conditioning coach (2009-12).
2023 Charlotte Knights Field Staff:
Manager: Justin Jirschele
Pitching Coach/White Sox Assistant Pitching Coordinator: Matt Zaleski
Hitting Coach: Cam Seitzer
Trainer: Hyeon Kim
Performance Coach: George Timke
Season membership plans, as well as half-season and partial-season plans for the 2023 season, are on sale now and can be purchased online at charlotteknights.com, by phone at 704-274-8282, or in person at the Truist Field Ticket Office located at 324 S. Mint St. Single-game tickets for the upcoming season will go on sale at a later date. Opening Knight at Truist Field in Uptown Charlotte is set for Friday, March 31 at 7:04 p.m.