Rutledge dazzles in shutout of Lynchburg in playoff opener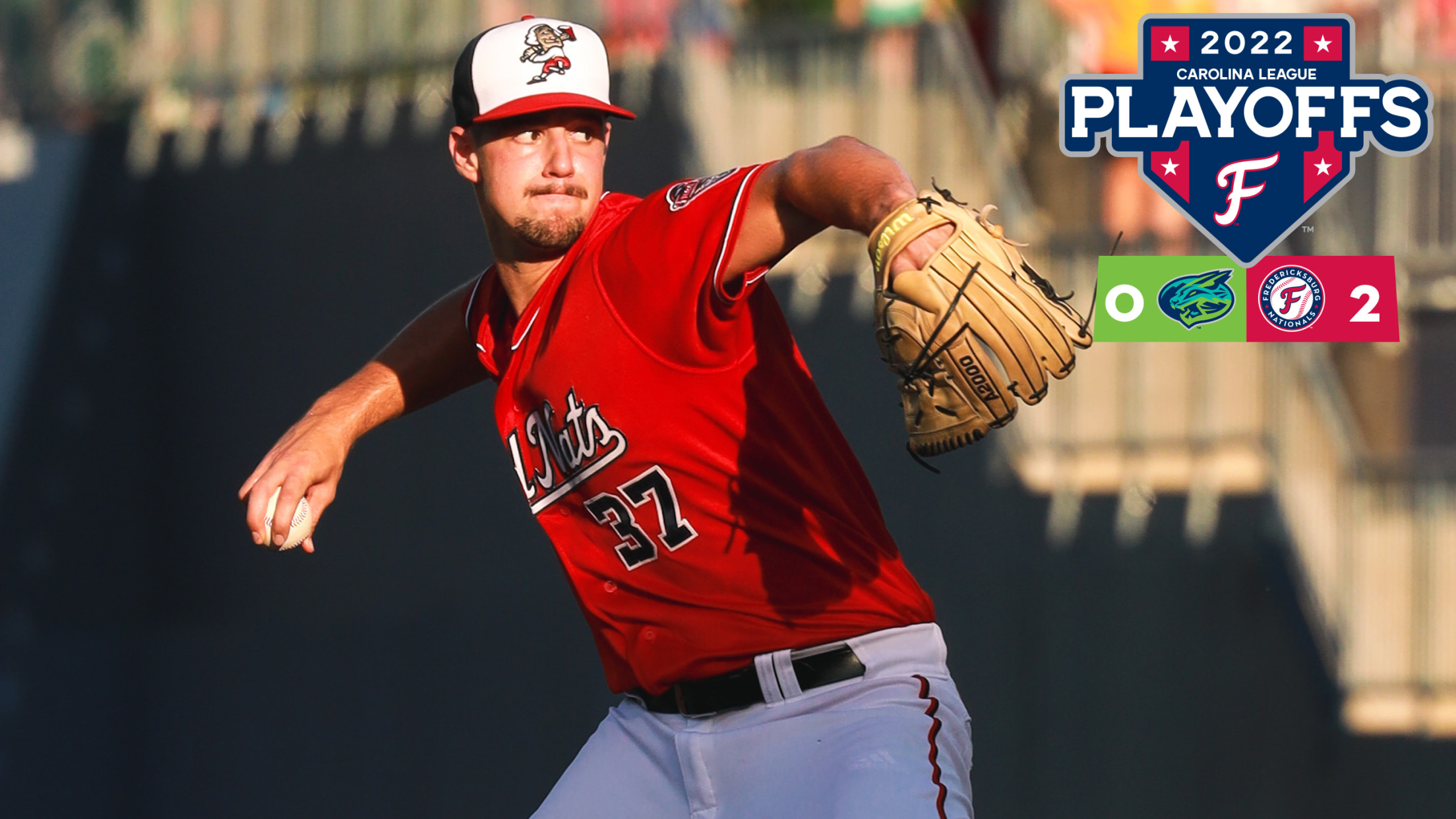 FREDERICKSBURG, VA - Jackson Rutledge pitched eight shutout innings with six strikeouts, Sammy Infante had three hits and a two-run double, and the FredNats shut out the Lynchburg Hillcats 2-0 in game one of the 2022 Carolina League North Championship Playoff series in front of 4,000+ fans at Virginia Credit
FREDERICKSBURG, VA - Jackson Rutledge pitched eight shutout innings with six strikeouts, Sammy Infante had three hits and a two-run double, and the FredNats shut out the Lynchburg Hillcats 2-0 in game one of the 2022 Carolina League North Championship Playoff series in front of 4,000+ fans at Virginia Credit Union Stadium.
The FredNat defense was perfect behind Rutledge after the first batter of the game reached on a bloop single. With the bases loaded for Lynchburg and one out in the 4th inning, Will Bartlett hit a rocket to third base that Trey Lipscomb snared with his glove. Lipscomb fired to second base for the first out, and then Sammy Infante turned the double play to keep the Hillcats off the board.
The FredNats broke through in their half of the 4th. Will Frizzell hit a deep drive to left field that was mishandled by the Lynchburg left fielder, and then a walk to James Wood put two men on base. With two outs, Sammy Infante doubled down the left field line to score Frizzell, and then Wood was also able to score on a bad throw to second base. The FredNats had four total hits in the game, and three of them belonged to Infante.
The FredNats turned another double play behind Rutledge in the 6th to help his night. He finished with a final line of eight innings, three hits, no runs, one walk and six strikeouts. Marlon Perez pitched a 1-2-3 9th inning for the save.
With the win, the FredNats go up 1-0 in the best-of-three series. The team will travel to Lynchburg for game two on Thursday at 6:30 p.m., and game three is Friday at 2:30 p.m. in Lynchburg if necessary. Jarlin Susana will start game two for the FredNats.
With one more win, the FredNats will advance to the Carolina League Championship Series against either Charleston or Myrtle Beach.
Advance tickets for the Championship series are available at frednats.com/tickets.