RoughRiders announce game times for 2023 season
2023 game times include 6:35 p.m. first pitch on Opening Day, April 6th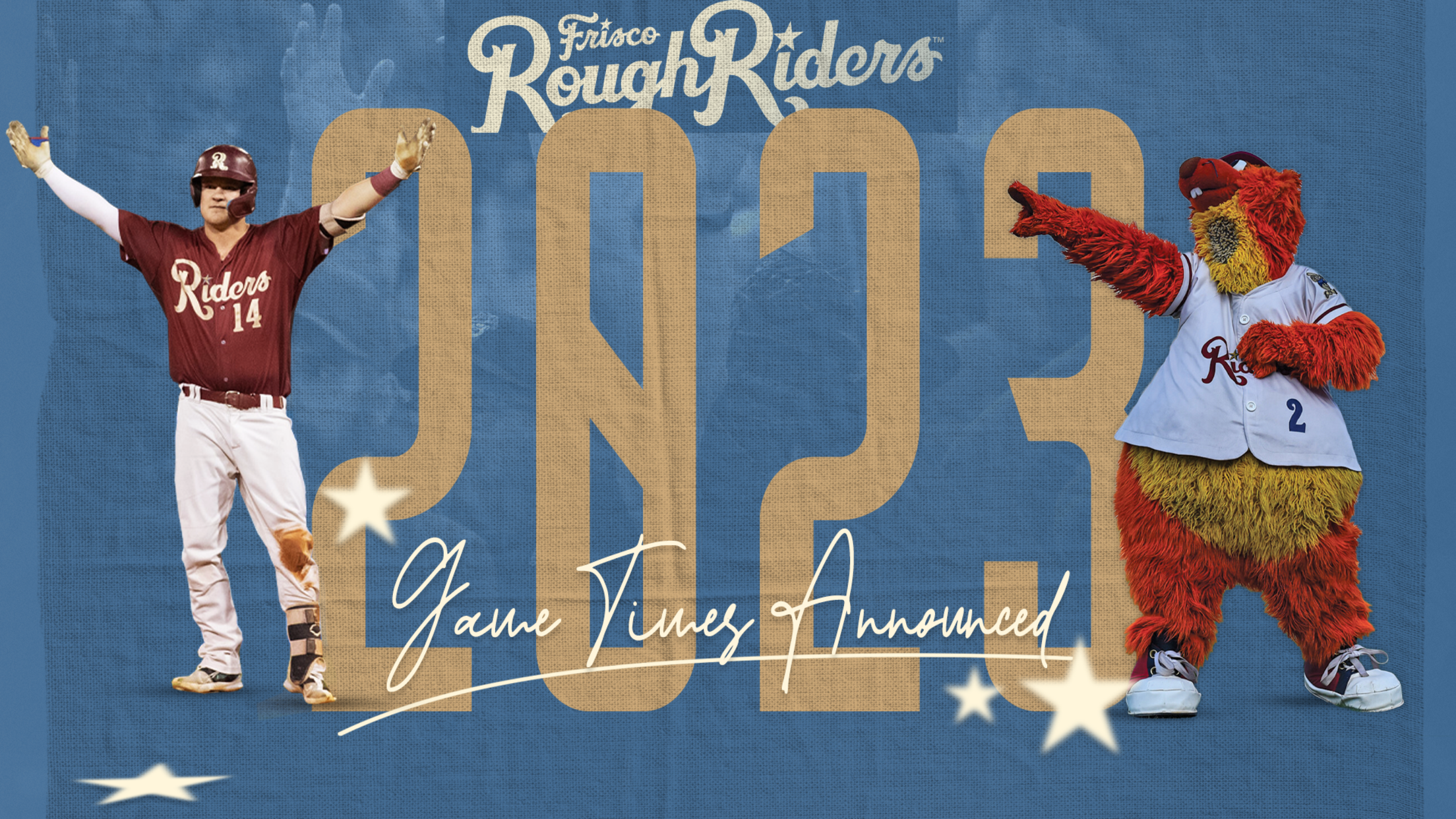 FRISCO, Texas (November 7, 2022) – Mark your calendars! The Frisco RoughRiders have released their home game times for the 2023 season, beginning with Opening Day on Thursday, April 6th at 6:35 p.m. against the Amarillo Sod Poodles (Arizona Diamondbacks affiliate). Over the course of the 2023 schedule, the RoughRiders
FRISCO, Texas (November 7, 2022) – Mark your calendars! The Frisco RoughRiders have released their home game times for the 2023 season, beginning with Opening Day on Thursday, April 6th at 6:35 p.m. against the Amarillo Sod Poodles (Arizona Diamondbacks affiliate).
Over the course of the 2023 schedule, the RoughRiders will play 138 games, 69 of which will take place at Riders Field in Frisco.
The schedule features key home dates such as a 4:05 p.m. first pitch on Mother's Day (Sunday, May 14th), a 7:05 p.m. game time for Tuesday, July 4th and a 6:05 p.m. start on Labor Day (Monday, September 4th).
During the months of April and May, all Tuesday through Thursday home games will begin at 6:35 p.m. - with the exception of Tuesday, May 9th (6:05 p.m.); Wednesday, May 10th (11:05 a.m.) and Tuesday, May 16th (11:05 a.m.). Friday and Saturday games will be played at 7:05 p.m. and all Sunday contests will start at 4:05 p.m.
From June through September, Tuesday through Saturday games at Riders Field will start at 7:05 p.m. with Sunday games beginning at 6:05 p.m. The two exclusions are Education Day on Tuesday, June 20th (11:05 a.m.) and Monday, September 4th (6:05 p.m.).
To view a full, downloadable PDF schedule, click here.
The RoughRiders will look to defend their Texas League Championship in 2023. The RoughRiders South Division opponents include the Amarillo Sod Poodles (Arizona Diamondback affiliate), the Corpus Christi Hooks (Houston Astros affiliate), the Midland RockHounds (Oakland Athletics affiliate) and the San Antonio Missions (San Diego Padres affiliate). The Texas League North Division is comprised of Arkansas Travelers (Seattle Mariners affiliate), the Northwest Arkansas Naturals (Kansas City Royals affiliate), the Tulsa Drillers (Los Angeles Dodgers affiliate), the Springfield Cardinals (St. Louis Cardinals affiliate) and the Wichita Wind Surge (Minnesota Twins affiliate).
All game times are subject to change.
The Frisco RoughRiders won the 2022 Texas League Championship, their second title in franchise history. Season tickets for the 2023 season are already on sale. For tickets and more information about the Frisco RoughRiders, visit RidersBaseball.com or call 972.731.9200.
About the RoughRiders
The Frisco RoughRiders are the Double-A affiliate of the Texas Rangers and the 2022 Texas League champions. In 2023, the team is celebrating its 20th anniversary and has consistently finished in the top five among all Double-A franchises in attendance yearly. In August 2014, the RoughRiders were purchased by an ownership group led by Chuck Greenberg. Since then, the new ownership group, together with the City of Frisco, has spearheaded numerous major franchise enhancements, investing over $8 million in a wide array of facility upgrades and improvements, including a state-of-the-art HD video board, sound system, Bull Moose Saloon, Bullpen Bar, Riders Outpost Team Store and the world's largest water feature in a sports facility, the massive Lazy River. These enhancements earned the Riders and the City of Frisco Ballpark Digest's prestigious "Best Ballpark Renovation" award for two consecutive years (2015 and 2016). More than 185 former RoughRiders players have gone on to play Major League Baseball including current Rangers Josh Jung, Cole Ragans and Bubba Thompson. For more information on the Frisco RoughRiders, please visit RidersBaseball.com or contact [email protected].