Around the Minors: The week of June 27-July 3
Sights and sounds from action across Minor League Baseball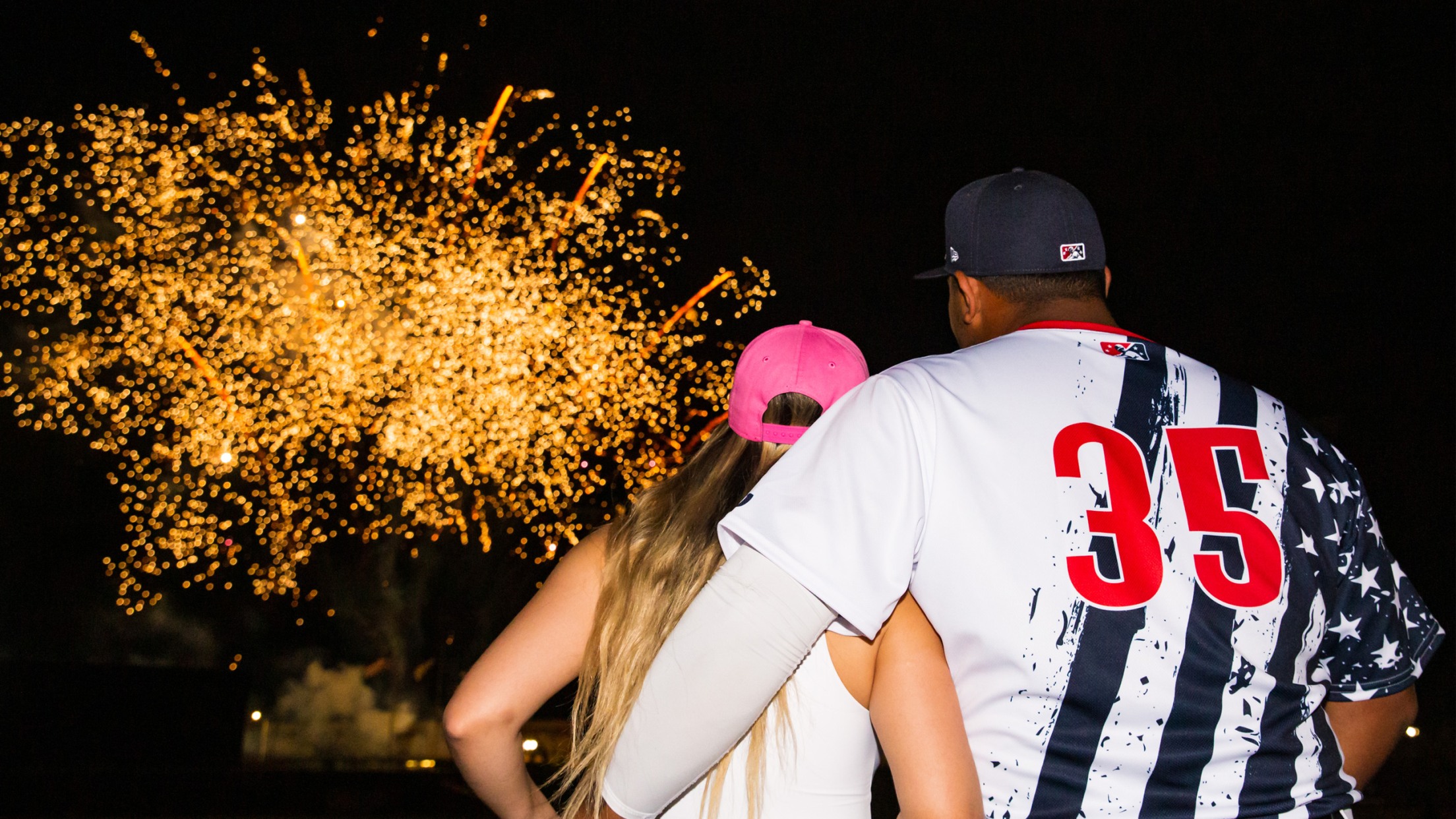 Sod Poodles infielder Leandro Cedeno enjoys the Independence Day weekend fireworks. (John Moore/Amarillo Sod Poodles)
July 3
Eguy's day out
Some days, a player will make a highlight-reel play. Other days, they'll have a breakout offensive performance.
But Eguy Rosario did a little bit of everything for Triple-A El Paso in its twinbill sweep of Oklahoma City. First, in a completion of a suspended game, the Padres' No. 5 prospect made a headline-grabbing play into the netting in an 18-5 win. Then, in the second game of the night, the infielder drilled two home runs in a 3-for-3, 5-RBI performance en route to a 12-2 victory.
Playing shortstop, Rosario ran to his right across the field on a foul pop-up down the left-field line and leaped into the netting to make one of the best catches of the year. After the catch was made, he got tangled up and tumbled back down onto the field as the umpire made the out call above him.
After making the highlight-reel play, Rosario flipped the switch from defense to offense in the nightcap, smacking two long balls and a single for his fourth multihit performance in his past 10 games and his sixth effort recording three or more hits. Full story »
Flipping the calendar ... and the power switch
James Triantos has found another gear in July.
The No. 4 Cubs prospect left the yard for the third consecutive game, singled and drove in two runs during Single-A Myrlte Beach's 10-7 loss to visiting Charleston. Triantos entered the month with two long balls in his first 63 games and now stands one shy of the six he hit during his professional debut in 2021.
The 19-year-old has gone 10-for-30 during a seven-game hitting streak to improve his slash line to .280/.351/.406 with 20 extra-base hits, 32 RBIs and nine stolen bases for the Pelicans.
The heat was on
A game-time temperature of 93 degrees was actually mild compared to the heat Bobby Miller brought to the mound.
Baseball's No. 33 overall prospect struck out a career-high 10 over six scoreless frames in Double-A Tulsa's 14-4 loss to visiting Arkansas. Miller yielded two hits and three walks while matching zeros with No. 4 Mariners prospect Emerson Hancock, who tossed 5 2/3 shutout frames.
Prior to the offense kicking into gear after his departure, a pitching duel is exactly what Miller craves.
"I love those types of games," the hurler said. "Especially when you are facing off against a good arm like [Hancock]. He threw the ball really well today and it was a lot of fun to pitch in that type of game. I seem to get a little more hyped up and locked in." Full story »
There's a first time for everything
There have been a handful of triple plays in the Minor Leagues already this season, but Down East's three-out turnaround Sunday was its first since being established in 2017.
The Rangers' Single-A affiliate made the unorthodox play look smooth. Four Wood Ducks got involved in the 1-4-3-2 feat that captured the final out at the plate in their 4-1 loss to the Kannapolis Cannon Ballers.
Left-hander Dylan MacLean entered his first inning of work and faced trouble early after allowing a double, a walk and two singles. The 19-year-old fielded a comebacker by Wilfred Veras, made an immediate 180 and tossed to Xavier Valentin. The second baseman who made a routine throw to first for the second out.
First baseman Abimelec Ortiz made a heads-up play, catching Wes Kath trying to score on the double play by firing a laser to catcher Ian Moller, who laid the inning-ending tag. Full story »
Holy COW. The Wood Ducks just pulled off a 1-4-3-2 TRIPLE play!! 😱🤯⚾️🦆 You don't see THAT very often!! @GoWoodDucks @BCHanks @gclemm77 pic.twitter.com/sHv1Ej5bA9

— Brett Kennedy WCTI (@KCKennedy93) July 4, 2022
Returning with a fistful of K's
Jacob deGrom's rehab start drew quite the crowd, and not just in the stands. During the Mets ace's warmup in the bullpen, members of the Single-A St. Lucie squad came out onto the field and stood behind him, watching the master at work.
And for good reason, because deGrom, despite not having pitched in a big league game since July 7, 2021, looked all but game ready. He maxed out at 101 mph on the radar gun and struck out five of the six batters he faced, inducing 12 swings-and-misses out of his 24 pitches against visiting Jupiter.
While the Mets continue to be tight-lipped regarding deGrom's timeline, the rough plan is for him to receive three or four more rehab starts to stretch out his pitch count. Assuming deGrom continues to progress without setbacks, he figures to return by the end of the month at the latest.
July 2
Brian O'Keefe 5, Salt Lake 4
There are great nights at the plate, and then there are downright magical ones. Mariners farmhand Brian O'Keefe definitely experienced the latter in Triple-A Tacoma's 5-4 win over Salt Lake at Cheney Stadium. The catcher drilled not one, not two, but three (!) home runs in the contest, which is a big enough feat on its own to warrant celebration. But to add to the spectacle, the 28-year-old capped off his performance with a walk-off single in the bottom of the 10th to send the Tacoma faithful home happy and his teammates into a frenzy. The icing on the cake? O'Keefe accounted for all five of the Rainiers' runs.
The righty slugger entered the night batting .287 with seven homers and finished it with a .304 average and a .988 OPS after the four-hit performance. It was the sixth multihomer effort of O'Keefe's career and the first one in which he's tallied three dingers. The 2014 Draft pick is coming off a season in which he swatted a career-best 24 long balls in 105 games, and he seems well on his way to matching that mark in '22.
Crow-Armstrong: One giant leap for South Bend
We don't have the Statcast numbers on Pete Crow-Armstrong's incredible catch for High-A South Bend, but they probably read something like this:
Catch Probability: below zero; Sprint Speed: lightning quick; Distance Covered: all of it.
The No. 3 Cubs prospect took away extra bases from Beloit's Nasim Nunez with a mad dash and feet-first slide in front of the opposing bullpen in left-center. All Nunez could do was stare in disbelief as he walked slowly back to the dugout. Crow-Armstrong's acrobatics shouldn't surprise anyone who has been paying close attention to the 2019 first-round pick. Of the 900 players who rank among their organization's Top 30 by MLB Pipeline, he is one of just eight to earn a 70 grade (out of 80) on his fielding tool.
De Avila dazzles for no-no
Luis De Avila's professional career has been the opposite of straight and narrow, but he rewrote his own script in Saturday's performance. The 21-year-old put together the best performance of his young career, a seven-inning no-hitter to lead High-A Rome to a 5-0 win over Greenville. He allowed three walks, but fanned a career-high nine, including the last two batters of the game.
"I was really focused on just going pitch-by-pitch, hitter-by-hitter," De Avila said through interpreter Jesus Aviles, who is also the team's athletic trainer. "Since it was a seven-inning game, I was just trying to go the entire way. I didn't figure out I had a no-hitter until the last inning, so [I was more relaxed]."
Perfection in the desert
It's hard for one pitcher to be perfect, let alone five. But that's just what the Arizona Complex League Dodgers did, tossing a combined perfect game. Justin Wrobleski -- who's on a rehab assignment -- started the game with a strikeout in the first. Christian Romero, Luis Valdez, Kelvin Ramirez and Horacio Andujar threw two innings a piece, combining for 12 strikeouts along the way. The masterful performance by all led to the ACL Dodgers' 13-0 win over the White Sox. Wrobleski, Valdez and Andujar all have ERAs below 1.00, and the first two have yet to have a blemish on their ERAs this season.
Álvarez on the move?
According to MLB.com sources and MLB Network Insider Joel Sherman, the Mets will be promoting Francisco Alvarez to Triple-A Syracuse in the near future. Baseball's No. 6 overall prospect hit .277/.368/.553 with 18 homers through 67 games with Double-A Binghamton, and was getting hot of late. Álvarez notched a 1 .070 OPS with 10 long balls in 20 June contests.
While power is the 20-year-old's best tool, his hit tool and arm behind the plate are also above average, through there is still room to grow on his throwing and framing. Álvarez has thrown out 24 percent of would-be basestealers this season. The top Mets prospect would be the first of New York's Big 3 to get the bump to the International League, leaving the door open for Brett Baty and Ronny Mauricio to follow.
The Mets' top prospect, Francisco Alvarez, played today at Double-A and was informed he is being promoted to Triple-A. Likely to report Monday.

— Joel Sherman (@Joelsherman1) July 3, 2022
July 1
Turning the Tides
Set up for a big inning in the second, Triple-A Norfolk had runners on first and second with no outs. But apparently, that's exactly where Gwinnett wanted them. The Stripers went around the horn for a 5-4-3 triple play to escape the frame unscathed. It's the club's first triple play since June 6, 2021.
After Rylan Bannon reached on a throwing error by third baseman Joe Dunand to start the inning and quickly advanced to second on a wild pitch by Kyle Muller, Kelvin Gutierrez worked a five-pitch walk. The next batter was Jacob Nottingham, who offered at the first pitch he saw and sent a bouncer down the third base line. Dunand played the hop perfectly as he stepped on the bag at third and fired a strike to second. Atlanta's fifth-ranked prospect Braden Shewmake then threw to first baseman Pat Valaika to turn three for Gwinnett.
Canadian kickstarts no-no on Canada Day
Garrett Hawkins spun seven perfect innings for Single-A Lake Elsinore, before Alan Mundo tacked on two frames to seal the 15-0 win and the first no-hitter in Storm franchise history.
Hawkins, a Biggar, Saskatchewan, native and former University of British Columbia pitcher was taking the mound on Canada Day.
"Not a lot of people at the field knew, but it was a big day for [Canadians]," Hawkins said. "When I came into the locker room after the game, they had the Canadian national anthem playing, which was pretty cool. It was just special to do it on this day specifically."
12 Krooked innings
After tossing five perfect frames his last time out, Matt Krook flirted with baseball immortality on Friday. The left-hander took a perfect game into the eighth inning before yielding an infield single with two outs in the frame en route to setting the table for Triple-A Scranton/Wilkes-Barre's 8-1 victory over Buffalo at PNC Field.
"Being in the strike zone a little bit more, particularly with my slider, and having multiple pitches that I can throw for a strike has been the biggest difference for me lately," Krook said. "I've never thrown a no-hitter or a perfect game before, I've actually never pitched in the eighth inning before, so that was new and exciting ... I heard I was going to be stopped at 100 pitches if I got there, but it would have been interesting to see what actually happened."
In addition to a perfect outing his last time out, the Oregon product had a streak of 39 straight batters retired that spanned his past three appearances.
See Zac Run (and blast off)
Zac Veen kicked off July with a big-time performance. MLB Pipeline's No. 27 overall prospect played a big role in High-A Spokane's 9-4 win over Vancouver on Friday. Veen scored following his walk in the first inning, and after being hit in the fifth, he stole second and third, matching his season high for stolen bases with two.
In the seventh inning, the right fielder gave the Indians their first firework of the month with a solo shot to center that extended the lead to two runs. For good measure, Veen knocked a two-run single to center in the ninth. He ended the day 2-for-3 with three RBIs and two stolen bases.
"I was just trying to put as much pressure on [the starter] as I could," Veen told MLB.com. "With [Ricky Tiedemann] throwing today, who has a good arm, I think going into it, we all knew that it was gonna be tough to put those runs across.
"I definitely take a lot of pride in my baserunning. I was taught from a young age, and especially in high school, that you can impact the game in more than one way."
Base Chasers
Triple-A Omaha was running early and often against St. Paul. The Royals prospects combined for a Storm Chasers-record eight stolen bases. Ivan Castillo led the squad with three swipes while Nick Pratto -- Kansas City's top prospect -- stole a pair. Dairon Blanco, Michael Massey and Nathan Eaton rounded out the speedy day with one swipe each.
While speed was the name of the game, it was the Saints who walked it off to pick up the 4-3 victory.
June 30
A 'Dynamite' call
The home run call wound up being pretty sweet, but not as cool as hunting wolverines.
Actor Jon Gries, better known as Uncle Rico from the 2004 movie "Napoleon Dynamite," was on hand as a guest broadcaster for the High-A Great Lakes Loons. He was lucky enough to catch a glimpse of one of baseball's budding stars, top-ranked Dodgers prospect Diego Cartaya.
With Gries in the booth, Cartaya hit a towering home run that was so majestic, it had the actor reprising his role, expressing that the dinger "was over those mountains."
Cartaya, the No. 23 overall prospect, has homered in three consecutive games and is hitting .283 with a .993 OPS. The 20-year-old catcher has 14 homers this year and 28 across 134 pro games.
"I'll tell ya, that was over those mountains"

Uncle Rico approves of Diego Cartaya's homer 🤣🤣🤣@greatlakesloons | @Dodgers pic.twitter.com/mAA0kkm3MC

— Minor League Baseball (@MiLB) July 1, 2022
What Brown can do for you
Hunter Brown ended the month of June with dominance.
The No. 1 Astros prospect fanned seven batters over six scoreless innings for Triple-A Sugar Land's 15-0 victory over Albuquerque. The 23-year-old threw 94 pitches (64 strikes) and only allowed two hits.
Baseball's No. 91 prospect lowered his season ERA to 2.42 and brought his strikeout total to 92.
Third-ranked Astros prospect Pedro León came up big in the Space Cowboys' shutout victory, with a three-run homer to center field in the third inning. The 24-year-old raised his season total to 11 home runs.
Tapping into some unexpected power
It was a career night in more ways than one for Brayan Rocchio.
MLB's No. 70 overall prospect collected his first multihomer game and drove in a career-high five runs in his first four-hit performance since July 13 of last year. Rocchio added a double and a single to go with the two long balls in Double-A Akron's 13-9 loss at Erie.
"It was really cool because I've never had a two-home run game before," he said. "I was really happy."
Rocchio's night got off to a red-hot start with a first-pitch, two-run homer to right as the second batter of the game off Erie righty Reese Olson, Detroit's No. 15 prospect. After grounding out in his next at-bat, the Guardians' No. 4 prospect rattled off a single, a double and a three-run homer in his next three at-bats to round out his 4-for-5 performance. Full story »
Father's Day, Part 2
It took Jared McDonald 61 at-bats to hit his first three homers of 2022, plus an additional 63 to hit another. Then came Thursday, when he nearly doubled his home run output in a matter of five innings.
The Oakland catching prospect went deep in his first three at-bats and drove in a career-high seven runs to power High-A Lansing past Lake County, 10-3, at Classic Park. McDonald became the fourth Lugnut to go homer three times in a single game and the first since Jason Dubois in 2001.
A first-pitch blast to right-center field in the opening frame gave Lansing a quick 2-0 lead. The 25-year-old's fifth home run established a career high, eclipsing the four hit across 51 games in last season's professional debut. McDonald found the seats beyond right again in the third, slugging a three-run shot for his first multihomer game and a personal-best five RBIs.
His dad, Paul McDonald, was particularly impressed by the feat on Twitter. Full story »
That's my boy!

— Paul McDonald (@PaulMcD36588225) July 1, 2022
Now back on Sale!
Chris Sale was right where he wanted to be.
"I miss this. I've had a lot of time away from this," Sale said. "The feeling that I get out there, I can't replicate it. I enjoyed how I felt out there. It's so much a part of who I am. It's what I'm supposed to be doing. I genuinely love playing baseball."
Making his first rehab start above the complex level as he makes his way back from a rib-cage stress fracture, the 6-foot-6 left-hander struck out seven while throwing 36 of 52 pitches for strikes in a start in Double-A Portland's 15-4 victory over New Hampshire. He allowed one run on four hits and did not issue a walk.
The seven-time MLB All-Star touched 96 mph and threw several pitches at 95 while getting swings and misses on his slider, but he was especially pleased with his feel for his changeup -- one of his main points of focus for his offseason work. Full story »
June 29
Records were made to be broken ... by Detmers
Reid Detmers just keeps on rewriting history.
Last month, he threw a no-hitter for the Angels in just his 11th start for the team, becoming the youngest pitcher in club history to do so, as well as the first Angels rookie to throw one since Bo Belinsky in 1962.
The southpaw returned to Triple-A Salt Lake this week, and in his first outing back with the Bees, he added a couple of more historical footnotes. Against Tacoma, Detmers struck out seven consecutive batters between the first and third innings; that bested the previous Salt Lake record of six. Over six frames, he fanned 14, tying Jered Weaver and the late Tyler Skaggs for the team's single-game mark.
Detmers gave up a run on three hits and a walk over six frames in the outing. The Bees ultimately fell to the Rainiers, 6-5, in 12 innings.
Fire-breathing Dragon
Joe Boyle had everything working against the Loons.
Cincinnati's No. 27 prospect gave his team a chance in High-A Dayton's 2-1 win over Great Lakes.
After exiting in the fifth inning, Boyle still stared at a scoreless game with the tide ready to tip in either direction. But he could be satisfied with his performance in the making of a pitchers' duel that had a dual no-hitter between both starters for four-plus innings.
The fifth-round (143rd overall) selection in the 2020 Draft was masterful, tossing five frames while giving up just one hit and striking out a career-high 12 batters on his way to lowering his ERA to 0.65 over 12 starts this season.
Taking the team on his back
On certain nights, there's a guy who can basically beat an entire team by himself.
Edouard Julien had one of those nights in his latest outing.
The No. 27 Twins prospect homered twice as part of a career-high seven-RBI night to pace Double-A Wichita's 10-1 win over Springfield, plating the Wind Surge's first four runs and seven of the first eight in their blowout win. Julien's offense set a single-game Wichita record.
"It was pretty fun to be a part of that," Julien said. "I have to give credit to my teammates. They were getting on base every time before me. I was just lucky every time I hit my home runs, they were on bases." Full story »
'Good to go'
Max Scherzer, who has been out with a strained left oblique since mid-May, made his second rehab start with Double-A Binghamton. He allowed two earned runs on four hits while striking out eight over 4 2/3 innings, throwing 80 pitches against Hartford.
After the game, Scherzer told reporters he doesn't expect to make any more rehab starts. "I felt good out there. I was able to work through some traffic," he said. "I'm good to go."
Scherzer was able to work with Francisco Álvarez during his time with Binghamton. The top Mets prospect caught Scherzer's start after the righty worked with his usual catcher with the Mets, James McCann, in his first outing.
"He's seen these hitters more than I have, so he had different thoughts on certain situations," Scherzer said. "He made some adjustments along the way. He worked with me pretty well, so I'm excited to see what he can do."
Álvarez also showed the rehabber his power with his 18th homer of the season. Full story »
Four score
Tyler Soderstrom matched his season high in RBIs with just two knocks.
Oakland's No. 2 prospect racked up four, but High-A Lansing eventually fell to Lake County, 14-10.
The first-round (26th overall) pick in the 2020 Draft keyed a five-run second inning with a two-out, two-RBI double after the Captains took an early lead to start the game. After Lake County went back in front in the third, the 20-year-old launched a two-run blast to left-center in the fourth to tie the score.
His 2-for-4 performance brought his average to its highest of the season, and the first baseman is currently slashing .241/.297/.463.
With two outs in the 4th, Gabriel Maciel worked the count full against Aaron Davenport before punching a single to left field.

Tyler Soderstrom smashed the next pitch out to left-center, his 13th home run of the year!

Mid 4th | Tie game, 8-8

— Lansing Lugnuts (@LansingLugnuts) June 30, 2022
June 28
Saying goodbye to 20 with a bang
Amazingly, Gunnar Henderson wouldn't turn 21 until the clock struck midnight Wednesday morning. The Orioles' ascendant No. 3 prospect chose to celebrate a night early, and by making some history.
Henderson became the first Norfolk Tides player since, well, before he was born, to hit for the cycle in Tuesday's 8-2 win over Gwinnett. Henderson's is the 9th cycle in Minor League Baseball this season and Triple-A Norfolk's first in 22 years, since Timo Pérez accomplished the feat on June 9, 2000.
"This is pretty unreal," Henderson said. "It really didn't hit me in the moment. Just being able to sit down and take it all in, it's pretty awesome. Just really special. I can't thank God enough for that. It was a special night, especially this close to my birthday." Full story »
Smokies quartet pens masterpiece
The Tennessee Smokies had to wait nearly nine full years between their last two no-hitters. The wait for their next wasn't even two months.
Starting pitcher Anderson Espinoza set the tone, and relievers Samuel Reyes, Bryan King and Nicholas Padilla combined to go the rest of the way as Double-A Tennessee no-hit visiting Rocket City in a 2-0 win on Tuesday night.
"It's the second go-round for us, so we had a little bit of work with it," Smokies pitching coach Jamie Vermilyea said after his team accomplished its second no-hitter of 2022. "It's one of those things where you don't really say it [is in progress]. You go with the superstitions. Everybody kind of has an idea of what's going on, but nobody wants to say anything. Once that final strike or final out gets made, you let it all out."
Espinoza was the one to get things started on Tuesday. The 24-year-old right-hander carved through Rocket City's lineup with five stellar innings, striking out seven and walking just one. Full story »
Whoa, Elly!
Elly De La Cruz is back on the homer train after going seven games without one.
The No. 2 Reds prospect has been having his best month of the season, slashing .322/.392/.621. De La Cruz built on his strong stretch, going 3-for-3 with a homer in High-A Dayton's 18-6 loss to Great Lakes.
The 20-year-old reached base in every plate appearance, singling in his first two at-bats and crushing a long ball to left field in the sixth inning. De La Cruz showed off his speed as well, stealing second base in the first inning.
The infielder's hot stretch brought his slash line to .300/.356/.575 with 14 homers and 44 RBIs in 62 games.
Malcom in the middle ... of a big rally
Down four runs with six outs to play with, Malcolm Nunez decided to take his team's fortunes into his own hands.
The No. 11 Cardinals prospect kicked off the bottom of the eighth inning with a solo homer and capped it with a go-ahead grand slam to rally Double-A Springfield past visiting Wichita, 12-8. Two swings, one inning and five RBIs.
The rare feat was a continuation of what has been a red-hot month of June for Nunez. The 21-year-old is batting .377/.449/.714 with eight homers and 25 RBIs this month after opening ending May with a .189 average. a .665 OPS, three long balls and 19 RBIs.
Mark it 1-3-6-1-4-2-5-3-8 in your scorecards
Austin Martin found himself in quite a pickle.
With Wichita leading Springfield, 6-3, and one out in the top of the seventh inning, the second-ranked Twins prospect took his lead off first base. That's where the fun began.
Cardinals southpaw Domingo Robles flashed a nice pickoff move and caught Martin leaning. The ensuing rundown was anything but routine as Martin avoided getting tagged for 18 seconds before Springfield center-fielder Justin Toerner made the tag. In the end, it goes down as a 1-3-6-1-4-2-5-3-8 putout.
Despite the unique caught stealing, Martin is still 22-for-26 in stolen base attempts this season.
Finding his groove
Jackson Rutledge flashed the potential Washington is so excited about.
The Nationals' No. 4 prospect had a rough outing in his last start, allowing five runs on eight hits in four innings. However, the 23-year-old bounced back, striking out a season-high eight and allowing three hits across seven innings in Single-A Fredericksburg's 8-0 win over Delmarva.
Rutledge finished strong, retiring the last 12 batters while throwing 58 of his 89 pitches for strikes.
The right-hander lowered his ERA to 6.35 and has now struck out 31 in 34 innings in nine starts. Rutledge missed the first month of the season after developing biceps soreness during Spring Training. The Missouri native struggled out of the gate, posting an 11.45 ERA in May. He's rebounded with a 3.91 mark in five outings this month.
Pitch Forrest, pitch
Forrest Whitley continues to impress on his rehab assignment.
The No. 4 Astros prospect made his first rehab start after returning from Tommy John surgery on June 22, throwing two scoreless innings but topped himself in outing No. 2. The 24-year-old was locked in for Single-A Fayetteville, huring three perfect innings and striking out the last five batters he faced against Carolina.
The right-hander threw 37 pitches (24 strikes) in his third appearance since undergoing Tommy John surgery 15 months ago. Whitley has surrendered three runs -- all coming in his first outing -- in seven innings while striking out nine.
The week that was
With the first half of the Minor League season coming to a close, teams clinched playoff berths in select leagues. Some did so in dramatic fashion, like Double-A Somerset, which captured the first-half title in the Northeast Division of the Eastern League on a walk-off homer by top Yankees prospect Anthony Volpe . Elsewhere, a trio of Orioles prospects put together a monster night for Triple-A Norfolk, and a Rays farmhand returned to the mound less than a year after a cancer diagnosis. Look back on last week.