Braves to lose Maitan, 12 other prospects
No. 38 overall prospect to become free agent after MLB sanctions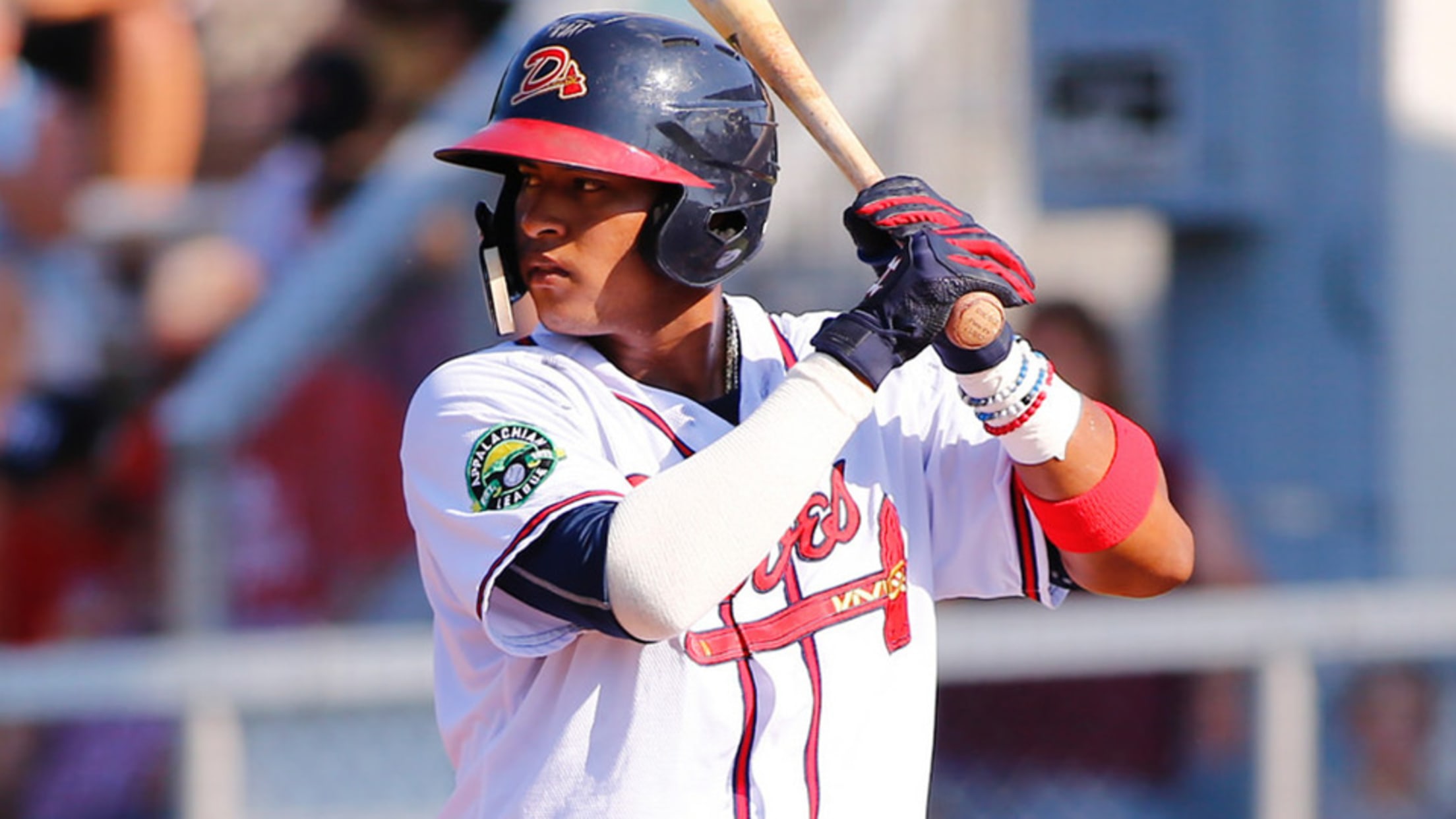 Kevin Maitan collected 11 extra-base hits in 33 games with Rookie-level Danville this season. (Chris Robertson/MiLB.com)
In the blink of an eye, the Braves' farm system is down 13 talented players.Atlanta will lose its No. 5 prospect, Kevin Maitan, along with No. 30 prospect Abrahan Gutierrez and 11 others following a Major League Baseball investigation into the organization's recent international signing practices, commissioner Rob Manfred announced
In the blink of an eye, the Braves' farm system is down 13 talented players.
Atlanta will lose its No. 5 prospect, Kevin Maitan, along with No. 30 prospect Abrahan Gutierrez and 11 others following a Major League Baseball investigation into the organization's recent international signing practices, commissioner Rob Manfred announced Tuesday. The Braves also will forfeit their 2018 third-round Draft pick and have restrictions on their spending during the 2019-20 and 2020-21 international signing periods.
Ranked as the No. 38 overall prospect by MLB.com, Maitan was the cream of the crop heading into the 2016 international signing period, not only for the Braves but across baseball. The Venezuela native was MLB.com's top international prospect and signed with the Braves for $4.25 million. (His status at the top was usurped by Luis Robert's arrival from Cuba the following spring.) The switch-hitting shortstop drew raves for his hit tool, power potential and arm. He moved stateside this summer and played most of his games with Rookie-level Danville, where he hit .220/.273/.323 with two homers in 33 games. He was, however, the youngest player in the Appalachian League and the circuit's only regular with a 2000 birthdate.
Gutierrez signed for $3.5 million, also out of Venezuela, and has been lauded for his above-average abilities behind the plate. His arm was given a plus 60 grade by MLB.com, and he showed it off by throwing out 18 of 48 (37.5 percent) of attempted basestealers this summer in the Rookie-level Gulf Coast League. The 18-year-old batted .264/.319/.357 with one homer and nine doubles in 35 games in his introduction to stateside ball.
Among the other prospects becoming free agents, Yunior Severino ($1.9 million), Juan Contreras ($1.2 million), Livan Soto ($1 million), Yefri del Rosario ($1 million) and third baseman Yenci Pena ($1 million) each received seven-digit bonuses. Juan Carlos Negret, Guillermo Zuniga, Brandol Mezquita, Angel Rojas, Antonio Sucre and Ji-hwan Bae round out the list of players who can sign with any of the other 29 clubs, subject to current international rules.
Bae, a South Korean shortstop, had agreed to sign with Atlanta for around $300,000 in September, although Manfred noted that the agreement was never official. The Braves also will be unable to sign Robert Puason, a 14-year-old shortstop from the Dominican Republic with whom they had an agreement in place.
MLB has been investigating whether the Braves circumvented international signing rules during the 2016-17 period. General manager John Coppolella and special assistant Gordon Blakeley previously resigned as a result of the scandal. As part of the sanctions handed down by Manfred, Coppolella was permanently banned from baseball and Blakeley received a one-year suspension.
The loss of a third-round pick is the result of attempts to use "impermissible benefits" to sign 2017 third-rounder Drew Waters. As for future international limits, the Braves will not be able to sign an international player for more than $10,000 during the 2019-20 signing period, and the organization's 2020-21 spending pool will be cut by 50 percent.
The Red Sox lost five prospects and were banned from making international signings for 2016-17 in a similar circumstance last year. The first $300,000 of the bonuses those five prospects signed with their new clubs did not count toward those clubs' bonus pools. There was no announcement on how much leeway will be given to signing clubs for the 13 released players except for the commissioner saying, "The procedures governing the players' release and the signing process will be communicated to MLB Clubs under separate cover."
Sam Dykstra is a reporter for MiLB.com. Follow and interact with him on Twitter, @SamDykstraMiLB.