Sweet revenge! New Hampshire destroys Portland
Fisher Cats set new team record with 16-run margin of victory in shutout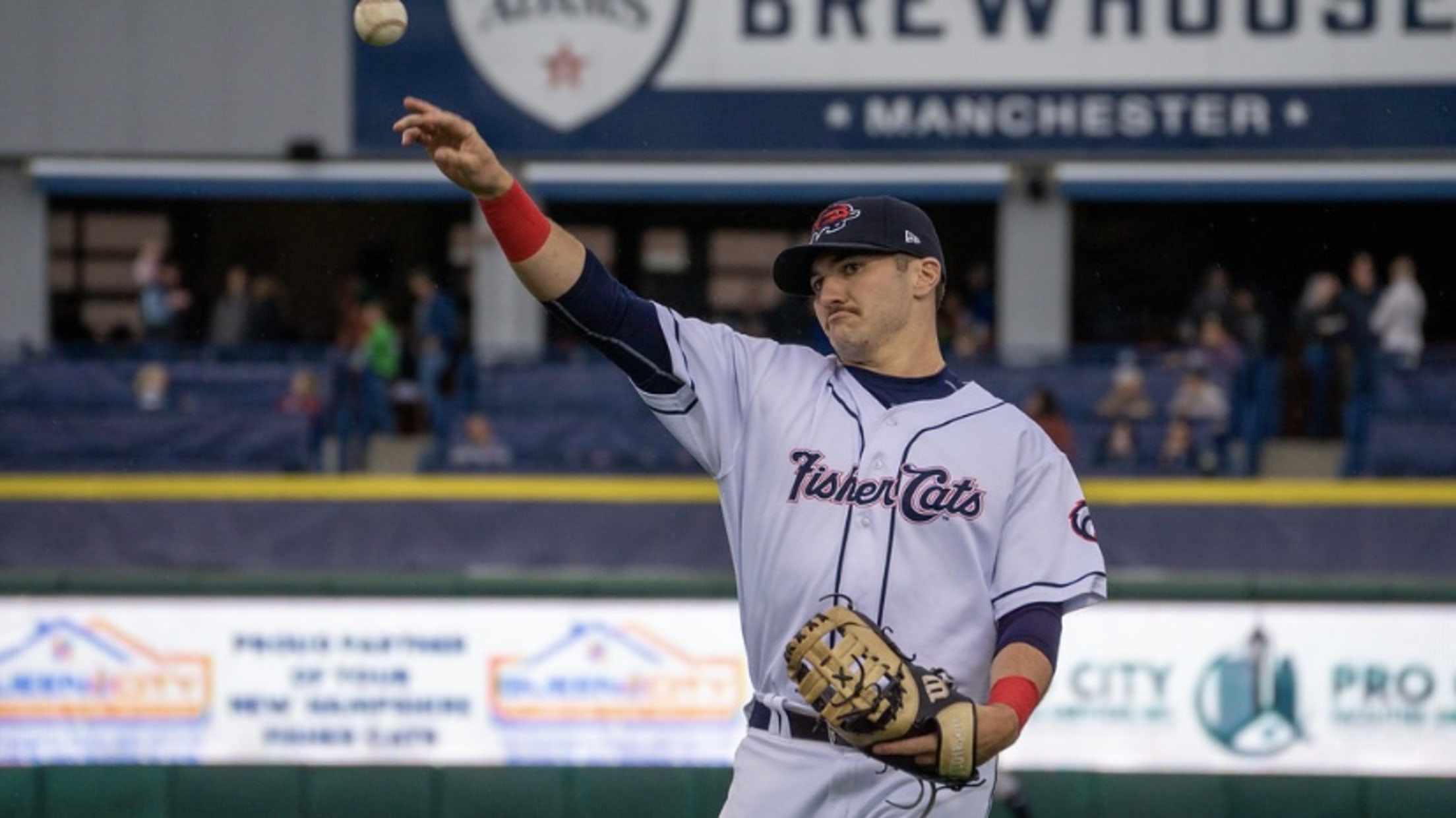 (Photo courtesy of Kristin Basnett)
Portland, Maine – After an 11-run defeat at the hands of the Sea Dogs last night, the New Hampshire Fisher Cats (1-3, 32-41) got sweet revenge with a massive win, 16-0, over Portland (Boston Red Sox, 3-1, 33-40). The Cats' 16 runs and 18 hits were both season-highs. The 16-run
Portland, Maine – After an 11-run defeat at the hands of the Sea Dogs last night, the New Hampshire Fisher Cats (1-3, 32-41) got sweet revenge with a massive win, 16-0, over Portland (Boston Red Sox, 3-1, 33-40). The Cats' 16 runs and 18 hits were both season-highs. The 16-run win made for the largest margin of victory in a shutout in team history.
New Hampshire scored 11 runs across the first three innings, sending at least seven batters to the plate in each frame. A string of four straight hits started the game for the Cats: Rafael Lantigua singled, John Aiello doubled, Spencer Horwitz smoked a two-RBI double and Trevor Schwecke singled.
All four would score, and New Hampshire led, 4-0, after one. The Fisher Cats have scored 56 runs in the first inning this season and are batting .304 in opening frames, the third-best average in all of Double-A.
Portland starter Brett Kennedy (L, 1-4) got just one out in the first before coming out of the game. He finished allowing five hits and four runs, three of which were earned. The Sea Dogs used five arms in relief, including infielder Ricardo Cubillan in the ninth.
The second inning saw four straight two-out singles from Horwitz, Schwecke, Luis De Los Santos and Zac Cook which scored two more runs and stretched the lead to 6-0.
Eight of the nine Fisher Cats had hits on Friday, and six players had multiple hits. Horwitz led the way, going 4-for-6 with two doubles, a solo homer and five RBIs. Schwecke was also 4-for-6 with a double and three RBIs. The pair became the third and fourth Fisher Cats with a four-hit game this season. Horwitz's four hits and five RBIs were new career-highs for the infielder.
De Los Santos finished 2-for-6 with four RBIs, two of which came on a double in the seventh inning. New Hampshire scored four that frame, too.
Pitching was stellar in the dominating win. Trent Palmer (W, 1-1) went 5.2 shutout innings and allowed two hits: a bunt in the third and a ground ball into right field in the sixth. The righty walked two batters and struck out a season-high nine. He was out away from a quality start.
Luis Quinones faced the minimum in three innings of relief, earning a save in his first outing out of the bullpen. He also had three strikeouts. Tyreque Reed tagged Quinones for a base hit in the ninth but was later ruled out for batting out of order after a long conversation between the three-man umpiring crew and the official scorer at Hadlock Field.
The 16-0 victory was the largest margin of victory against Portland and was the team's first 16-run game since July 21, 2019 against Reading (16-1).
The Fisher Cats continues their series against Portland at Hadlock Field tomorrow, July 2 with first pitch at 6:00 p.m.
The Fisher Cats return to Delta Dental Stadium July 4 through July 10 against the Hartford Yard Goats (Colorado Rockies). New Hampshire will play their only Monday game of the season of July 4 and will celebrate with The Biggest Fireworks Show in Fisher Cats History. Tickets can be found at NHFisherCats.com, via email at [email protected], over the phone at (603) 641-2005, or in-person at the Fisher Cats box office at 1 Line Drive in Manchester.