Trash Pandas Group Experiences Available In 2023
Unique opportunities offered for fans part of large groups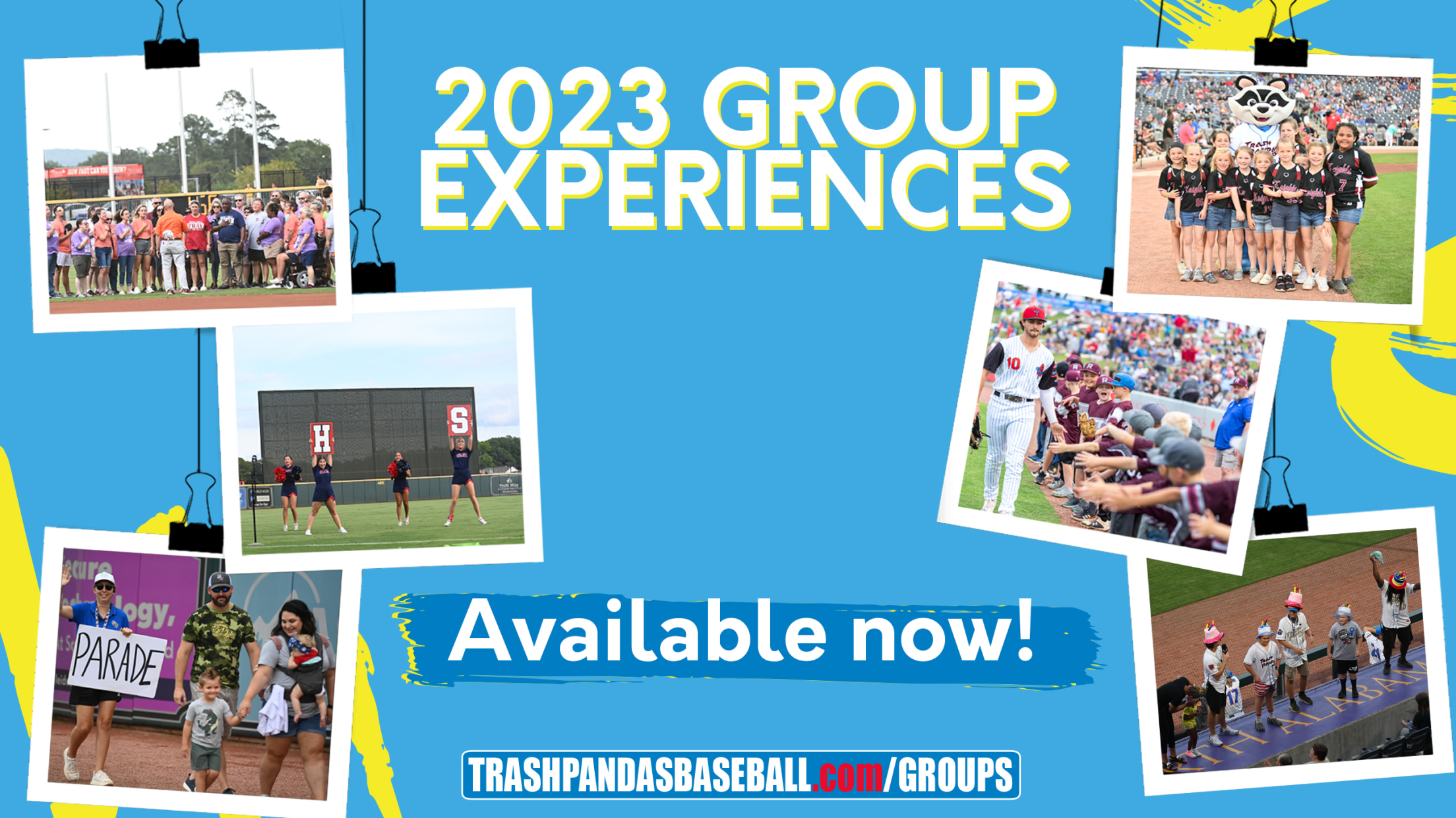 With the 2023 season just weeks away, the Rocket City Trash Pandas are happy to share one-of-a-kind opportunities for groups to get involved with the team on game days at Toyota Field during the upcoming season. Experiences are available for individuals and groups of all ages, from national anthem performers
With the 2023 season just weeks away, the Rocket City Trash Pandas are happy to share one-of-a-kind opportunities for groups to get involved with the team on game days at Toyota Field during the upcoming season.
Experiences are available for individuals and groups of all ages, from national anthem performers to dream teams, pre-game parades and performances, large flag presentations, high five tunnels, and birthday parties, everyone will have a blast attending Trash Pandas games at Toyota Field in 2023.
Dream Teams: Your youth sports team or organization can take the field with the Trash Pandas players and stand with them during the National Anthem right before first pitch. This opportunity is available for groups of 20 or more, and each group will receive on-field recognition before the national anthem. All players will stand next to the Trash Pandas during the national anthem, and each will take home a limited-edition Dream Team pennant. For more information, contact Kailtyn Shepard at [email protected] or call (256) 325-3872.
High Five Tunnel: Similar to Dream Teams, high five tunnels are a tremendous way for your group to welcome the Trash Pandas on the field before a game. Groups of 20 or more will be invited to the field near the Trash Pandas dugout to high five players and coaches as they take the field. Each group will be recognized on the videoboard before the game. For more information, contact Kaitlyn Shepard at [email protected].
Large Flag Presentations: A great way for you and your group to show your patriotic pride and take part in an on-field event before the game is with a large flag presentation. For this outing, groups must be around 30 adults and be able to hold a large flag in center field during the national anthem. This experience is only available on select dates, so be sure to reach out to Emma Martin at [email protected] to take advantage before this opportunity is gone!
Performance Groups: Local organizations will get the chance to show off their talents performing live for thousands of fans at Toyota Field. This experience is great for dance teams, gymnastics groups, martial arts squads, school bands, church choirs, and more. If you have a group that wants to perform, let us know! For this, For more information, contact Ricky Fernandez at [email protected].
National Anthems: One of the most storied traditions is the singing of the national anthem before every game. Whether you're performing solo or as part of a group, this could be your chance to display your patriotic pride before a game at Toyota Field this season. Everyone interested in performing must reach out to Ricky Fernandez at [email protected].
Pregame Parades: If you are bringing the whole company, school, church, or other organization all out at once, you will get the opportunity to take a walk around the Toyota Field warning track before the game. All groups of 500 or more people will get this exceptional opportunity to stroll around the field before a game. For more information on group outings and parades, contact Austin Huggins at [email protected].
Birthday Parties: Celebrate your birthday with a gameday experience at Toyota Field, presented by Handel's Ice Cream. All-inclusive birthday packages are just $300 and include ten (10) box seats (including two chaperones), eight all-beef hot dogs, bags of chips, packs of Oreos, and froot shoot beverage packs, as well as eight Trash Pandas birthday pennants. Each birthday boy or girl will also receive an opportunity to be on the videoboard as Happy Birthday is sung to them on top of the dugout, one free small cake or sugar cone courtesy of Handel's Ice Cream, and an additional in-game videoboard recognition. CLICK HERE for more information on birthday parties or email Renae Washburn at [email protected].
Sprocket's Kids Club: The best way to keep the kids involved with the 2023 Trash Pandas, Sprocket's Kids Club is open to children ages 13 and under and includes a limited-edition Kids Club T-Shirt, Trash Pandas sunglasses, membership card to use for a chance to win prizes at Trash Pandas home games throughout the season, one general admission ticket to the Sprocket's Kids Club game on Sunday, August 27 vs. Tennessee, pre-game on-field parade access before that game on August 27, and exclusive news updates and invitations to Trash Pandas events. For more information on Sprocket's Kids Club, CLICK HERE or contact Maddison Kendrick at [email protected]
The Trash Pandas open the 2023 season at home on Thursday, April 6 against the Chattanooga Lookouts. First pitch at Toyota Field is scheduled for 6:35 p.m. Single-game tickets go on sale in-person and online on Saturday, February 25, at 9 a.m.