Torii Hunter Talks Trash Pandas At Spring Training 
Baseball legend enjoyed watching first two seasons of Trash Pandas baseball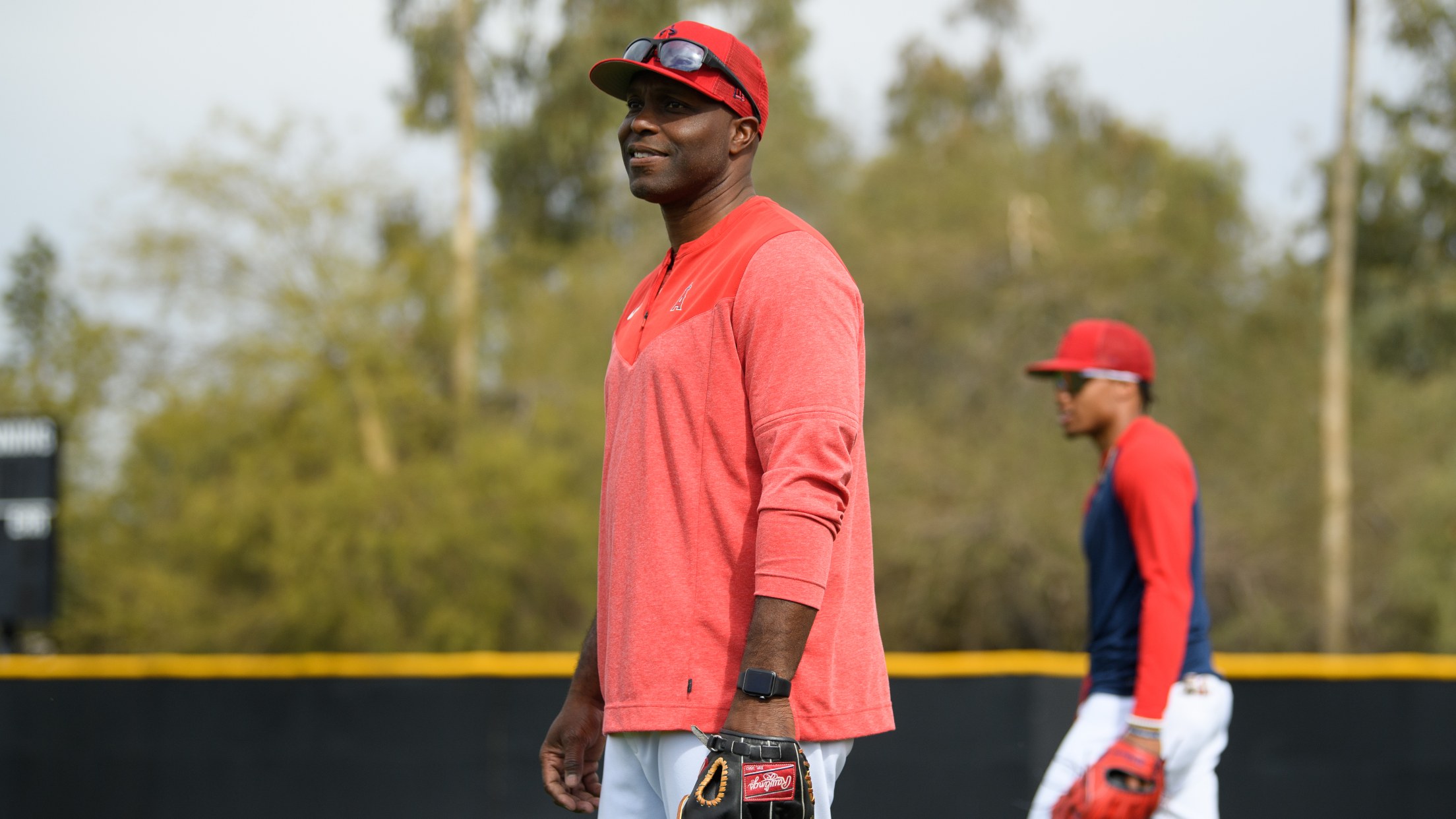 Torii Hunter returned to Angels Spring Training as a Guest Instructor (Blaine Ohigashi/Los Angeles Angels)
Torii Hunter has seen and done nearly everything in the game of baseball. One of the best defensive players in the history of the game, Hunter won nine Gold Glove awards, was named an All-Star five times, once famously robbing Barry Bonds of a home run at the 2002 All-Star
Torii Hunter has seen and done nearly everything in the game of baseball. One of the best defensive players in the history of the game, Hunter won nine Gold Glove awards, was named an All-Star five times, once famously robbing Barry Bonds of a home run at the 2002 All-Star Game in Milwaukee.
But to see his son, Torii Hunter Jr., follow in his footsteps is something that few dads can experience -- especially with one of the organizations that he suited up for throughout his 19-year MLB career. With Hunter Jr. heading to the Trash Pandas for his Double-A debut to begin the 2021 season, that was a completely different phenomenon.
"He was in the (Angels) organization that adopted me from Minnesota, and I grew to love this organization, and it was great to see my son playing in such a classy organization," the veteran Hunter said. "I'd never heard of the Trash Pandas before that. But then I found out it was a raccoon and I liked that because they tear up my trash. It was amazing watching him there."
The younger Hunter had a similar sentiment.
"I didn't know what a Trash Panda was. But it's pretty cool. When I saw the logo, it built a hot of hype around it," Hunter Jr. said. "I started hearing about how the name was picked and I was excited for it. It made for a great experience to see what it was like here in North Alabama."
The time Hunter Jr. spent in Rocket City is completely different than the experience his father had at the minor league level in late 1990 coming up through the Minnesota Twins' system.
"My minor league experience, he didn't want to experience that. His is totally different than mine," Hunter said on a recent day at Angels Spring Training. "We played in older stadiums, made less money, it was just a different time."
Hunter Jr. became a star on the inaugural Trash Pandas squad in 2021 and returned to help lead the team to its first playoff appearance in 2022, becoming the first Angels affiliate to reach the playoffs in years. Although Rocket City was unable to bring home a championship, the playoff experience will be something the 2022 Trash Pandas carry with them throughout their career.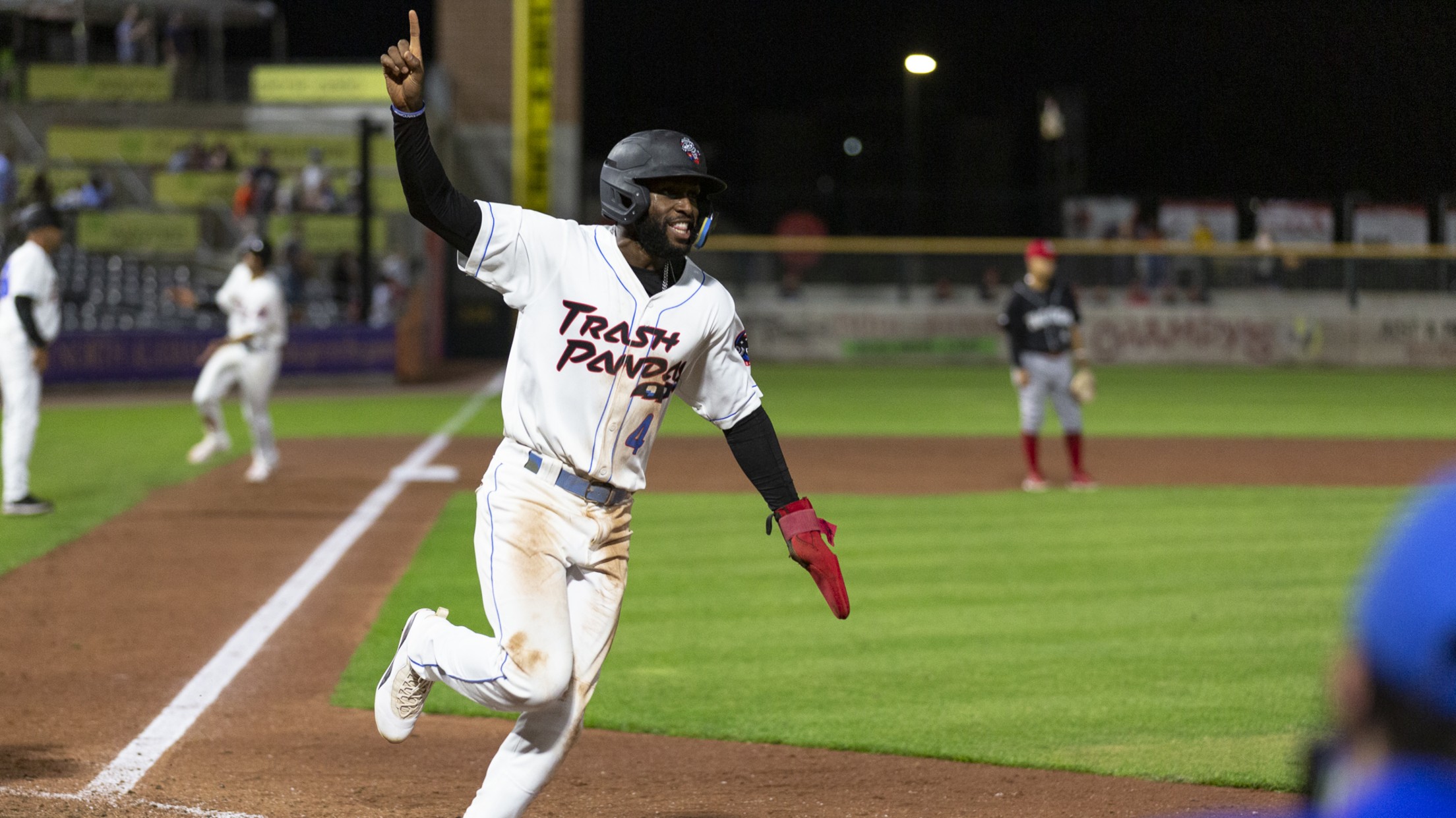 It was something that Hunter first encountered in the Twins organization, reaching the postseason numerous times at different levels on the way to becoming one of the game's best. Once he was in the big leagues, he returned to the playoffs eight times, batting .274 over 48 games on the biggest stage. Now back with the Angels working as a guest instructor at Spring Training in Arizona, he feels the Halos will soon be on that path.
"You need that edge. Playing in the postseason brings that different adrenaline and it brings things out that you never knew you had," Hunter said. "I think the Trash Pandas squad that was there last year, these guys that are going to the big leagues are going to have that fire about them."
Although the elder Hunter was unable to make it to Madison to see his son in action with the Trash Pandas in person, he was able to follow the team online through their first two seasons. That left him impressed with the play on the field, and the atmosphere provided by Trash Panda Nation at Toyota Field.
"It was amazing watching those guys in that stadium," he said. "There's a lot of great fans there. They really support that team and that stadium. For years to come, I think they will support that team no matter what."
Although Hunter Jr. is currently a free agent, he will always have fond memories of his time with the Trash Pandas.
"The support was crazy. It exceeded all of my expectations," he said. "The guys and the atmosphere that this team was provided was a lot of fun. I love the team. I love the atmosphere. I love the fans."