Happy Women and Girls in Sports Day
February 1, 2023, marks the 37th annual National Girls & Women in Sports Day; a day we recognize and celebrate the talents and contributions of women in the sports industry. The Salt Lake Bees organization is fortunate enough to have several talented women on its front office staff, each bringing
February 1, 2023, marks the 37th annual National Girls & Women in Sports Day; a day we recognize and celebrate the talents and contributions of women in the sports industry.
The Salt Lake Bees organization is fortunate enough to have several talented women on its front office staff, each bringing unique talents that make the organization great. To celebrate National Girls & Women in Sports Day, get to know the women on the Bees staff and hear why they believe it's so essential for women to be a part of the industry.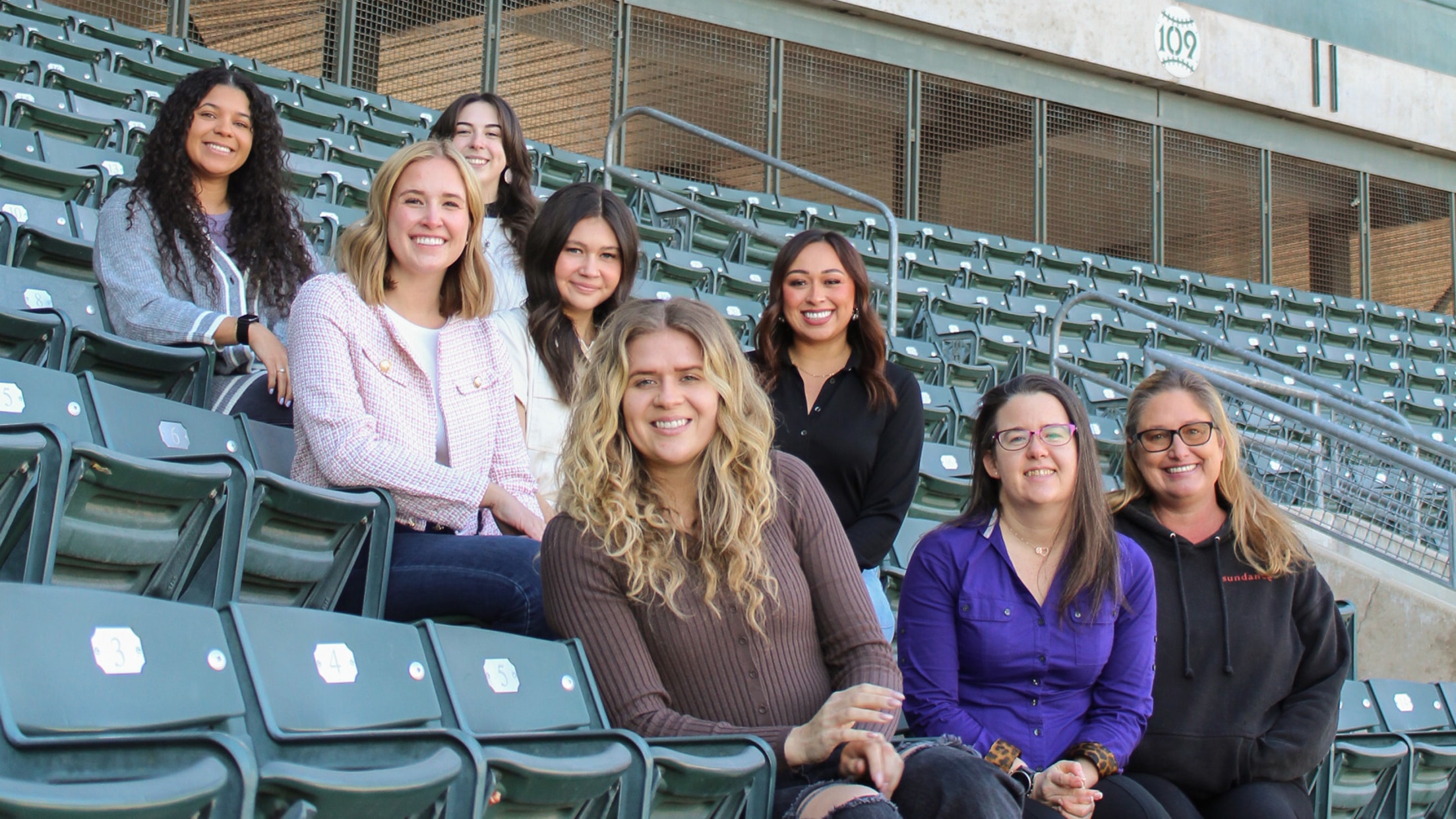 Brooke Frederickson – Official Scorer
Brook Frederickson is the only female Official Scorer in the PCL and has been scoring for the Bees since 2016. As an Official Scorer, Brook records the events of the game and makes judgment-scoring decisions based on rules and guidelines put out by the MLB. Brooke says about her role, "I love those crazy plays where you ask yourself, 'what just happened!?' and then getting to work out how to score it. But the best part is just being at the ballpark. There is something about the game day atmosphere that never gets old – I'm always excited for the first pitch."
In high school, Brooke was told that continuing to play sports would not be in her future, so she started looking for other ways to be involved. She shared, "I discovered there were lots of jobs in sports out there. For young girls who love baseball as much as I did growing up, it's important for them to see that there are jobs in baseball available to women. Diversity brings different perspectives and makes us all better."
Sam Cook – Membership Service Manager
As a Membership Service Manager, Sam's supports Bees Season Ticket Members. She says, "I love having to opportunity to provide unique and memorable experiences for our guests and getting to experience the game night atmosphere from behind the scenes." Sam adds that sports created a safe space for her from an early age, so "it means a lot to me to be able to give back to the sports community in a small way and contribute to something that serves as a safe and enjoyable space for others."
Growing up, Sam says she didn't feel that women's voices were quite as amplified in the sports industry. She says, "I always dreamt of working in sports but didn't know if there was a place for me. Young Sam would be so proud to know I got to grow up and live my dream. I hope that in some small way, my presence in sports might inspire other girls wanting to work in this industry to follow their dreams and pursue their passions."
Caytee Black – Ballpark Receptionist
Caytee keeps the ballpark running as the Bees' Receptionist. "I've been here for five years, and I love the environment and the employees I work with. I've made many friendships from working here that I will forever be grateful for. I also love the diversity of our fans and the stories that come along with them; working in sports brings a vibrant and inclusive energy to day-to-day life. It's also a fun perk to be able to say I work at Smith's Ballpark."
Caytee shares that there are so many reasons for women to work in the sports industry, but says the most significant "is so little girls with aspirations to work in the industry have women to look up to who have successfully made a career for themselves."
Kylee Rasmussen – Social and Digital Media Manager
As the Bees' Social and Digital Media Manager, Kylee gets to spend every day creating and curating content for Bees Fans. She shares that she has wanted to work in sports since she felt the adrenaline of game day for the first time as a sophomore in high school, "I still get that same feeling every game day. And the fact that I get to do what I love and create content with an amazing team makes it that much better."
Kylee stressed the importance of women working in sports, saying, "not only is there a space for women in the sports industry, but there is an incomparable value to their presence. We are only doing our best work when there is diversity within the voices contributing." She adds that she feels lucky to work with a team who understands this and works to create an inclusive and collaborative environment where everyone's ideas and talents are valued.
Arielle Maestas – Sponsorship Activation Manager
Arielle is the Activation Manager for Bees corporate sponsors but has worked in many different departments over the years. She says about her role, "I really enjoy being a part of the atmosphere the ballpark provides; being a team player is where I thrive! And, meeting with those that continue to keep our ballpark special is truly the most valuable experience."
Arielle loves that the sports industry has a very fast-paced, high-energy environment that keeps you on the edge of your seat. She encourages girls to find positions in the industry, saying, "there is always so much potential for growth that aligns with your interests. Women watch sports just like men do and are needed to bring a different outlook to things – our own little 'sparkle,' if you will."
Abigail Scott – Ticket Sales Account Executive
Abigail has worked at the ballpark as both an Account Executive and in the box office for the Bees. She says she works in sports because she loves the family-like staff, that every day is different, and that as a woman, she can provide a different perspective to the organization. She says that this is why it's important for women to work in the industry, "we provide different ideas and perspectives. As women, we can create different experiences and open up opportunities for new things!"
Madison Sherwood – Ticket Sales Account Executive
Madison is the newest member of the Bees Sales team and loves how passionate the staff is about the industry and the community, "this is a team that provides the tools and resources for everyone to succeed in their role and have fun doing it." She also adds that it's fun to be at the ballpark every day.
Madison shares that it's important to have a balance of different views, problem-solving skills, and ways of approaching sales and the industry, "diversity is so important in this industry to create and cultivate a place where everyone can come and enjoy sports and feel welcome."