Meijer Baseball Academy Registration Now Open for 2023 Season
The three-day camp teaches baseball fundamentals and led by South Bend Cubs Manager Lance Rymel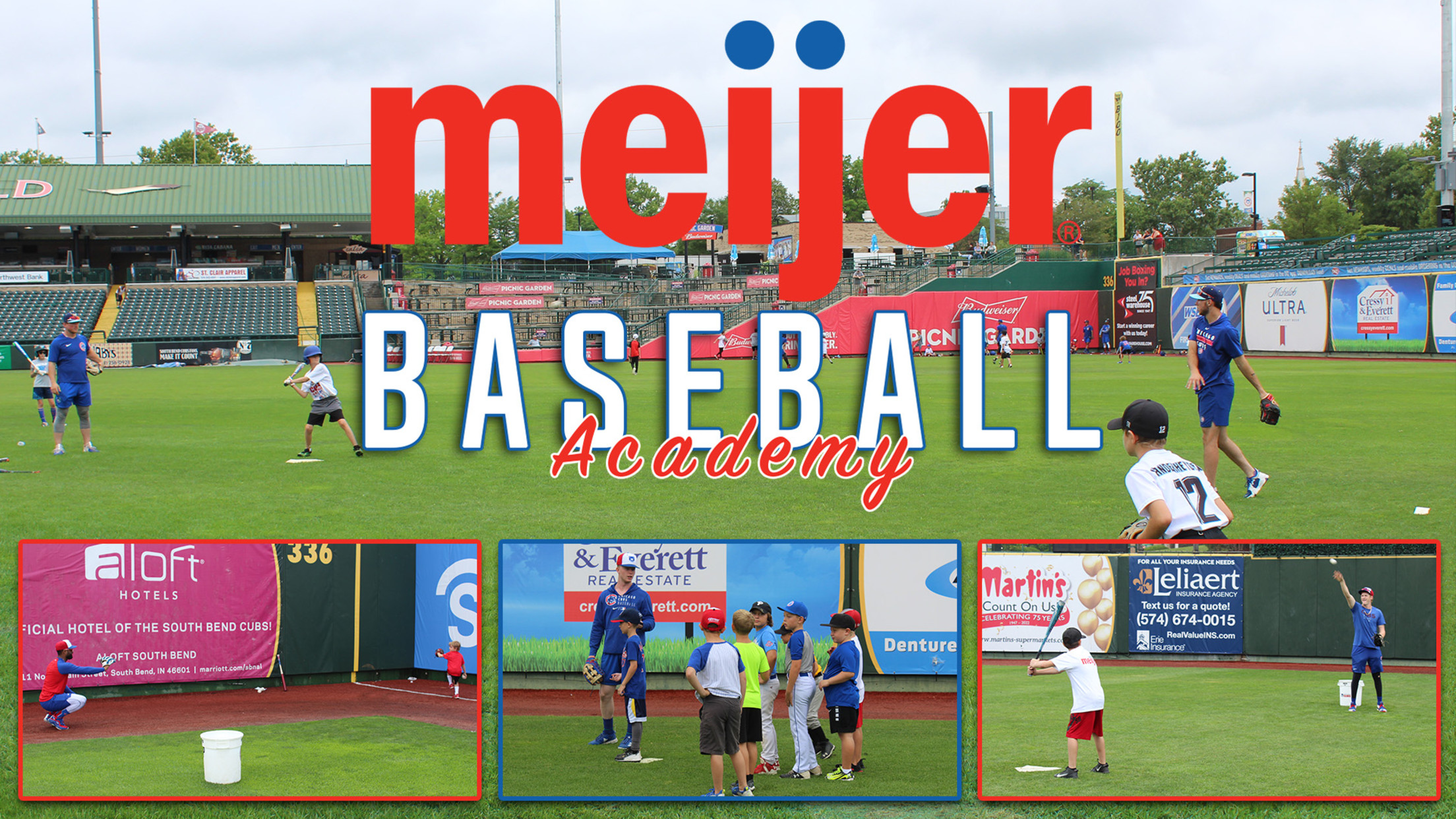 SOUTH BEND, IN – As Cubs Spring Training continues, parents can now register their kids for one of the two South Bend Cubs summer training camps! Enrollment is now open for the 2023 Meijer Baseball Academy held at Four Winds Field. Session one runs from July 5-7 and session two
SOUTH BEND, IN – As Cubs Spring Training continues, parents can now register their kids for one of the two South Bend Cubs summer training camps! Enrollment is now open for the 2023 Meijer Baseball Academy held at Four Winds Field. Session one runs from July 5-7 and session two runs from August 2-4.
"This is an incredibly popular camp and each session sells out every year," said South Bend Cubs Assistant General Manager for Marketing and Media Chris Hagstrom-Jones. "Many kids keep coming back year after year and it's great to be able to see their progress and development, not just as a player, but as young adults. It's incredibly rewarding for the coaching staff and players who teach the camps.
Over the course of the three-day camp, participants will learn fundamentals about hitting, pitching, fielding (infield and outfield), catching, and base running. Registration is open to kids ages 6-to-12. Due to the high number of participants, and to provide proper instruction, each Baseball Academy session is capped at 80 kids.
Each participant will receive a Meijer Baseball Academy t-shirt, a South Bend Cubs hat, lunch after each day of camp, and four tickets to a South Bend Cubs game. Attendees from the first camp will receive tickets for the game on July 6 and campers from the second session will receive tickets for August 3. All Meijer Baseball Academy campers will take part in a pre-game recognition on the field. The registration fee for one, three-day session is $135 per child.
Check-in for the first day (July 5 or August 2) of the session will begin at 8:30 a.m. ET. Camp will run from 9 a.m. to 11:45 a.m., with lunch at 11:50 a.m. and pickup at noon. The deadline to register for either camp is June 9. To sign up, visit www.SouthBendCubs.com/BaseballAcademy and click on the session register button under Session 1 or Session 2. Registration is only available online. Those who need assistance registering their camper can visit the Four Winds Field Main Office.
The same skills are taught at both camps and parents only need to register for one session.
Through the South Bend Cubs Facebook and Twitter pages, Meijer will hold a contest to award free admission to two lucky winners. Contest details will be available on the Cubs social media pages in May.
About the South Bend Cubs
The South Bend Cubs are the High-A affiliate of the 2016 World Series Champion Chicago Cubs. Over the past 34 seasons, the team has won five Midwest League titles, most recently in 2022, and has captured nine division titles. In 2022, Four Winds Field, home of the South Bend Cubs, was voted Best High-A ballpark in the country by Ballpark Digest, having also won the award as a Low-A ballpark in 2017. In 2019, the South Bend Cubs hosted the final Midwest League All-Star Game. In 2015 the team was named Ballpark Digest's Team of the Year and received the John H. Johnson President's Award, the highest award in minor league baseball. The team is owned and operated by Swing-Batter-Swing, LLC whose principal shareholder is Andrew T. Berlin of Chicago, Ill.