Dust Devils Win Wild Game in Extras, Split Series with Hops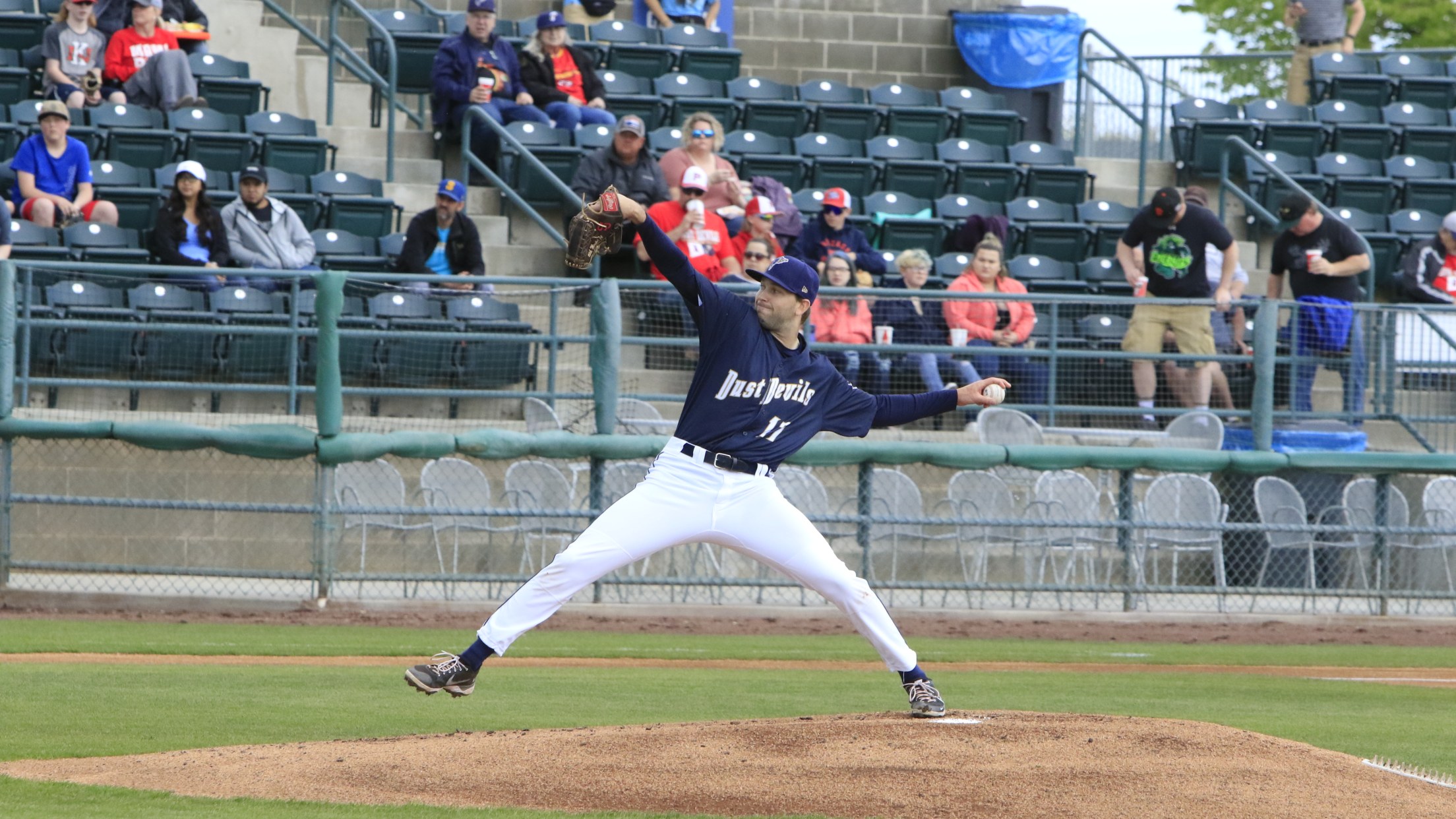 Despite the Hillsboro Hops (27-33 2H, 56-68) landing late haymakers to twice tie the Tri-City Dust Devils (25-35 2H, 54-69), the visitors rolled with the punches and came up clutch late for a 6-5 win in 11 innings Sunday afternoon at Ron Tonkin Field. The game early on was a
Despite the Hillsboro Hops (27-33 2H, 56-68) landing late haymakers to twice tie the Tri-City Dust Devils (25-35 2H, 54-69), the visitors rolled with the punches and came up clutch late for a 6-5 win in 11 innings Sunday afternoon at Ron Tonkin Field.
The game early on was a pitcher's duel with Dust Devils southpaw Nick Mondak throwing six scoreless innings, giving up only four hits, walking none and striking out a career-high ten batters. Hops righty Luke Albright also went six innings, the first four scoreless.
Tri-City opened the scoring in the 5th inning, on a pair of back-to-back doubles by 3B Christian Molfetta and LF Mike Peabody, with Peabody's liner down the right field line scoring Molfetta for a 1-0 lead. They followed the same recipe in the 6th inning, when DH Steven Rivas hit a short fly down the right field line. Three Hillsboro defenders went after it and one called off his teammates, but no one touched it, giving Rivas a double. C Evan Russell then pulled a liner down the left field line, scoring Rivas for a 2-0 lead.
That lead would hold to the bottom of the 8th inning, when the Hops came back to tie the ballgame off Dust Devils reliever Emilker Guzman. An error by Molfetta gave Hillsboro two on with one out, and back-to-back RBI singles by tied the game at 2-2.
Still tied at 2-2, the game went to extra innings. In the top of the 10th inning, with Molfetta as the automatic runner, Peabody laid down a sacrifice bunt. Hops reliever Jose Alcantara whiffed on his scoop attempt to field the bunt, putting runners on the corners with no one out. A wild pitch advanced Peabody to second base, putting two runners in scoring position.
SS Osmy Gregorio came up with the Hillsboro infield drawn in for a play at the plate. Gregorio hit a grounder to the right side, fielded by Hops 2B Jarrod Watkins. Molfetta stayed at third base but Peabody ran on contact, ending up tagged out in a rundown. CF Joe Stewart then came through with a sacrifice fly to deep center, scoring Molfetta for a 3-2 lead.
1B Gabe Matthews came up with two out and also came through, with a double fair inside the RF line scoring Gregorio to make it 4-2. RF Casey Dana followed with an RBI single scoring Matthews, and it was 5-2 Tri-City going to the bottom of the 10th.
There Hillsboro came back again, scoring three times via doubles by C Ramses Malave and PH Gavin Logan to tie the ballgame at 5-5 with no one out. Dust Devils reliever Dakota Donovan (4-2), who gave up the game-tying double in relief of Brandon Dufault, fought back to get a strikeout and two groundouts to force an 11th inning.
Tri-City scored once in the 11th, with Molfetta getting redemption by singling to left field to score Dana and give the Dust Devils a 6-5 advantage.
Donovan came back for the bottom of the 11th and made sure there'd be no third Hops rally. With Hillsboro DH Adrian del Castillo at second base as the automatic runner, RF Neyfy Castillo hit a low line drive to first base. Matthews caught it before it hit the ground, throwing to Gregorio for a double play. Watkins popped out to Molfetta in foul territory near third base, securing a wild win for Tri-City that earned the team a 3-3 series split with Hillsboro.
The Dust Devils, concluding their 2022 road schedule with a record of 26-38, return home to Gesa Stadium for their final series of the season, taking on the Spokane Indians beginning at 6:30 p.m. Tuesday night. It's a battle of dueling southpaws, with Tri-City sending Brent Killam (1-4, 5.63 ERA) to the mound. Ryley Widell (1-3, 9.98 ERA) counters for Spokane.
The game broadcast begins with the King Beverage Budweiser Pregame Show at 6:15 p.m. at dustdevilsbaseball.com and the MiLB First Pitch app.
Tickets for the season-closing series with Spokane are on sale now, with special ticket rates are available for groups of 20 or more. For more information on Dust Devils single game, season, mini-plan (11, 22, 33) and group tickets, visit dustdevilsbaseball.com or call 509-544-8789.