Canadians Name 2023 Coaching Staff
North Delta's Brent Lavallee back to lead crew that includes Baseball Canada great Ashley Stephenson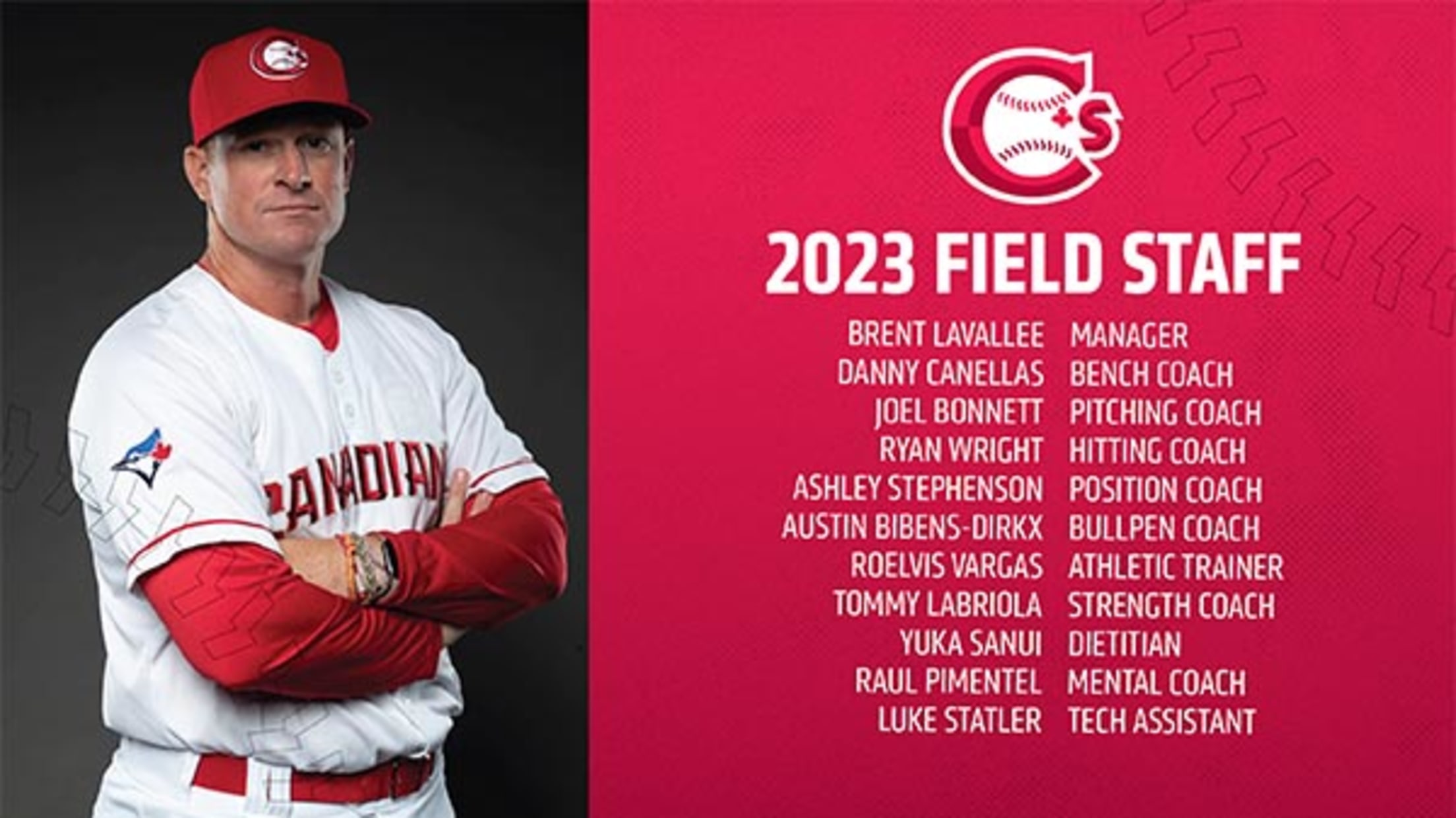 VANCOUVER, BC – The 2023 Canadians coaching staff has been named for the franchise's 12th season in the Toronto Blue Jays organization. North Delta, BC native Brent Lavallee returns to helm the C's for a second year after leading the team to the playoffs in 2022 and bringing postseason baseball
VANCOUVER, BC – The 2023 Canadians coaching staff has been named for the franchise's 12th season in the Toronto Blue Jays organization. North Delta, BC native Brent Lavallee returns to helm the C's for a second year after leading the team to the playoffs in 2022 and bringing postseason baseball to The Nat for the first time in half a decade. His staff will feature an accomplished mix of familiar faces and new names, including four-time Women's Baseball World Cup medalist and 2015 Pan American Games silver medalist Ashley Stephenson.
Lavallee, 36, returns to Vancouver a year removed from his club posting the second-best overall record in the Northwest League. Originally hired by Toronto to manage the C's in 2020, Lavallee made his professional managerial debut in 2021 with the Florida Complex League Blue Jays before his promotion to High-A in 2022.
Prior to joining the professional ranks, Lavallee served on the coaching staff in multiple capacities at Louisiana State University Shreveport, his alma mater, culminating with three seasons as the head coach. He went 126-56 as the skipper of the Pilots baseball program and 396-147 with five conference titles, seven conference tournament titles and two appearances in the NAIA World Series in his nine seasons on the program's staff.
As a player, Lavallee played in 200 games over the course of four seasons at LSUS. In his senior year, Lavallee hit 18 homers and drove in 78 runs to earn him 1st Team All-Conference, 2nd Team All-State, NAIA All-American Honorable Mention, 1st-Team All-Canada, Delta Sports Amateur Athlete of the Year and runner-up for the 2009 Canadian College Baseball Player of the Year.
Danny Canellas, 27, returns to the fold to serve as bench coach for his third year with the Canadians and second in High-A. He was last with the C's in 2021 as a position coach after serving in the same role with the team in 2019. Last year, the Venezuelan-born former catcher – who began his professional playing career with the Dodgers and later spent one season in Toronto's system – worked with former C's manager Donnie Murphy at Low-A Dunedin.
Joel Bonnett, 33, takes over as pitching coach after serving as bullpen coach last year when he worked closely with a stable of arms that included Blue Jays pitching prospects Ricky Tiedemann, Yosver Zulueta and Sem Robberse. Bonnett played collegiately at North Park University in Chicago – three hours north of Springfield, his hometown – then went on to serve as pitching coach and recruiting coordinator at the University of Illinois Springfield, Southwest Minnesota State, Hendrix College and Benedictine before starting his professional coaching career.
Ryan Wright, 30, who previously coached in British Columbia as the skipper for the Kelowna Falcons in the collegiate West Coast League, returns as hitting coach in 2023 for his third year with the Canadians. Before trading in his spikes for a clipboard, Wright slashed a combined .316/.401/.453 in two seasons at Oklahoma City University. The Boise, ID native has mentored the likes of Spencer Horwitz, Tanner Morris and Addison Barger to breakout campaigns that saw each player earn ranked prospect status in Toronto's system.
Stephenson, 40, makes her affiliated baseball coaching debut as Vancouver's position coach. A proven winner, the Mississauga, ON product's illustrious two-sport career dates to her university hockey days at Wilfrid Laurier – which included four conference titles and a CIS National Championship – and continued as a pro in the original National Women's Hockey League and the Canadian Women's Hockey League while starring for the Canada women's national baseball team from 2004 to 2018.
On the diamond, Stephenson was named Canada Women's National Baseball Team MVP twice (2005, 2008), earned an All-Star nod at third base in the 2008 IBAF World Cup Tournament and won the 2011 Baseball Canada Jimmy Rattlesnake Award, which was renamed in her honor. Most recently she was tabbed as the 2022 recipient of the Baseball Canada Lionel Ruhr Elite Coach of the Year Award after she became the first woman to manage a Canadian national baseball team when she led the women's national team to two wins over Team USA in the Friendship Series then coached Ontario teams at the Women's Invitational and 16U Girls Championships before guest instructing at Toronto's Player Development Complex in Dunedin, FL. Stephenson is the first female coach in C's franchise history.
Austin Bibens-Dirkx, 37, will also make his affiliated coaching debut as Vancouver's bullpen coach. The former big leaguer – who spent three seasons in Toronto's system from 2013 to 2015 – was originally drafted by Seattle in the 16th round of the 2006 draft out of the University of Portland and amassed nearly 2,000 innings pitched over 17 seasons that included stops in Mexico, Venezuela, the Dominican Republic and China. This won't be the Salem, OR native's first stint in British Columbia; he pitched for the Victoria Seals of the Golden Baseball League in 2009.
Filling out Lavallee's staff are four familiar names and one newcomer. Roelvis Vargas returns as athletic trainer for his second season with the C's, Tommy LaBriola will embark on his third season as the club's strength & conditioning coach, Yuka Sanui is back as the team's dietitian and Raul Pimentel is the mental performance coach for the second year in a row. Luke Statler will make his C's debut as the technology assistant.
The 2023 season begins on April 7 when the C's celebrate Opening Day at Nat Bailey Stadium, the first game of the season-opening homestand that goes through April 16. For tickets or more information, visit CanadiansBaseball.com or call 604-872-5232.