C's, RBC Announce Return of RBC We Care Wednesdays
Second season of the initiative will honor 10 local charities at Nat Bailey Stadium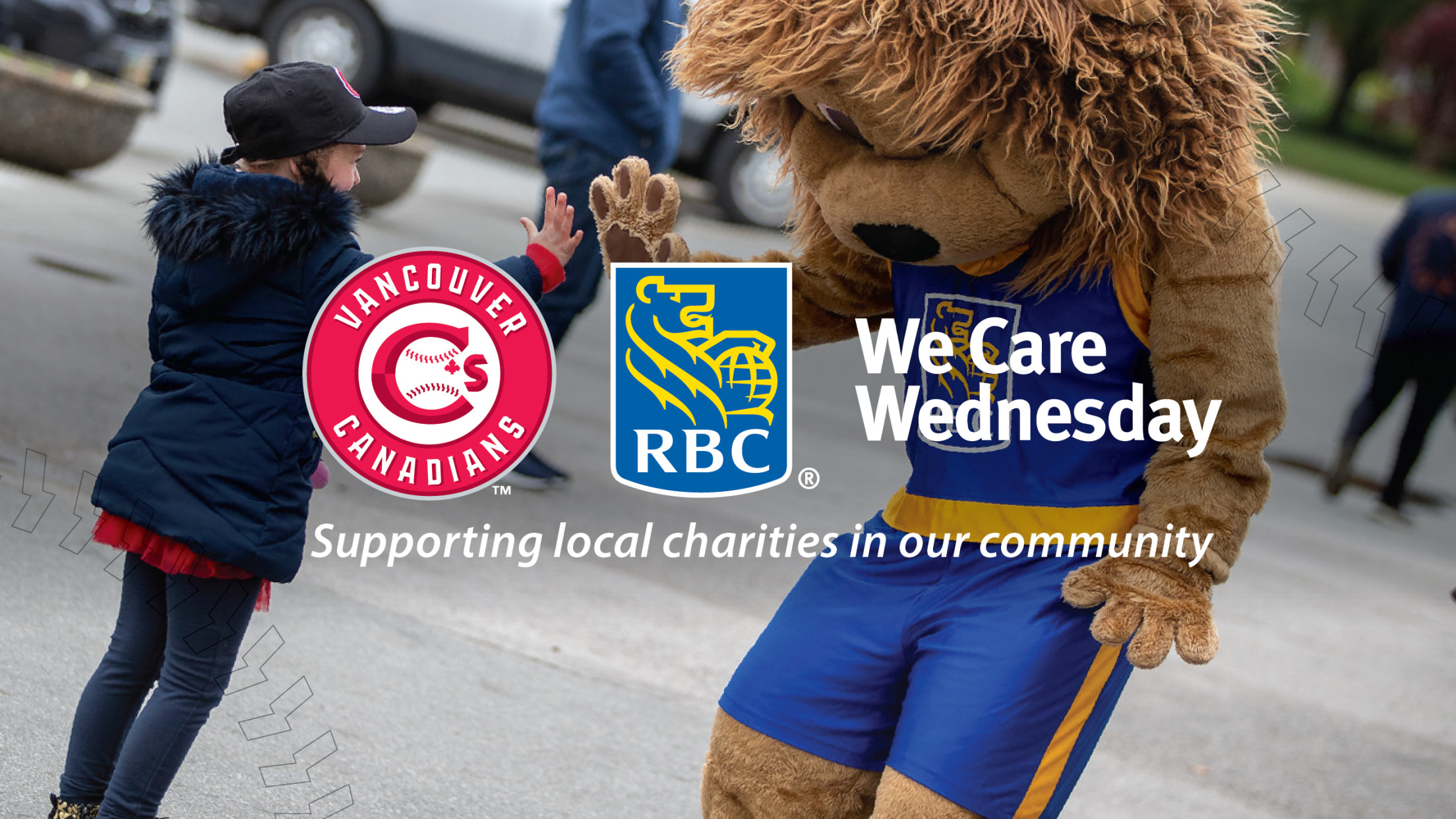 VANCOUVER, BC – The Vancouver Canadians and RBC are pleased to announce the return of RBC We Care Wednesdays, a community spotlight campaign that highlights the efforts, impact, and achievements of 10 local charities through public awareness, a ticket fundraiser and in-stadium events that showcase each charity at Nat Bailey
VANCOUVER, BC – The Vancouver Canadians and RBC are pleased to announce the return of RBC We Care Wednesdays, a community spotlight campaign that highlights the efforts, impact, and achievements of 10 local charities through public awareness, a ticket fundraiser and in-stadium events that showcase each charity at Nat Bailey Stadium.
"We are honored to partner with the Vancouver Canadians to celebrate 10 incredible charities who are making such an important impact in local communities across British Columbia," said Todd Shewfelt, Regional Vice President, Business Financial Services, RBC Royal Bank. "My Team RBC colleagues, and I are extremely excited to once again join the Canadians at iconic Nat Bailey Stadium to support our community partners! The charities selected for RBC We Care Wednesdays are organizations that we have long-standing relationships with through donations, sponsorships and countless employee volunteer hours and fundraising. That's why we can't wait to join baseball fans at The Nat this season to thank these charities for all that they are doing to help care for our communities."
During each RBC We Care Wednesday, fans at the ballpark will be introduced to one of the following 10 charities:
April 12 – Ronald McDonald House BC and Yukon provides support for sick kids and families needing to travel long distances to receive specialized care only found in Vancouver. Their 73-bedroom house is a place filled with hope and love, built on the belief that keeping the family together is an essential part of healing children with serious illnesses.
April 26 – BC Children's Hospital Foundation works with communities across British Columbia to raise funds for essentials including life-saving equipment, research into childhood diseases, a wide range of medical staff and community child health education programs.
May 10 – United Way British Columbia serves Central and Northern Vancouver Island, Lower Mainland, Thompson Nicola Cariboo, Southern Interior, Trail and District, and East Kootenay and exists to drive positive impact and lasting change by delivering resources and support for the people who need it most.
May 31 – Crisis Centre of BC provides help and hope to individuals, organizations, and communities. Spanning the spectrum of crisis support, suicide prevention, and postvention, they engage staff and volunteers in a variety of services and programs that educate, train, and support the strength and capacity of individuals and communities.
June 14 – A Loving Spoonful provides free, nutritious meals to people living with HIV and co-existing illness in Metro Vancouver and the surrounding areas. They provide approximately 100,000 meals each year to those most vulnerable in the community, many of whom are isolated and dealing with multiple physical, mental, and emotional challenges.
June 28 – BC Centre for Ability is dedicated to their mission of leading in the design and delivery of community-based services for persons with diverse abilities. They are guided by their values of hope, kindness, collaboration, and innovation in a family-centric environment.
July 26 – YWCA Metro Vancouver supports women and families as they pursue their dreams and goals. Their mission is to advance gender equity alongside women, families, Two-Spirit and gender diverse people through advocacy and integrated services that help support personal, collective and economic wellbeing.
August 9 – PLEA *Community Services Society of British Columbia *helps children, youth, adults and families who face significant challenges lead fulfilling lives within their communities. They believe in the powerful influence of relationships that are based on mutual trust and respect, that everyone has the opportunity to have a good life and that everyone counts.
August 23 – *MOSAIC *is one of Canada's largest settlement non-profit organizations. Their newcomer services change the lives of immigrants, refugees, and individuals from diverse backgrounds in Greater Vancouver and throughout BC.
August 30 –* Family Services of Greater Vancouver* has been looking out for people in crisis since 1928. Over 420 staff members help youth experiencing homelessness, families and children impacted by trauma, victims of domestic violence, and other vulnerable people from an evidence-based, trauma-informed lens — all while providing compassionate, client-centered care.
"Giving back to our community is an integral part of what we as an organization and our loyal C's fans stand for," Canadians Vice President of Sales & Marketing Walter Cosman said. "We are thrilled to work with the great team at RBC to bring this program to life every Wednesday night at The Nat. It's a great way to enjoy a baseball game and inspire positive action in the community at the same time, making this partnership a true 'win-win-win' for us, RBC, and, most importantly, these incredible charities."
Each charity will benefit from a special fundraising code that fans can use to purchase tickets. A portion of the ticket purchase price will go directly to support the charity. A special pregame ceremony, interactive activities on the concourse – including meet & greets with RBC Olympians and Leo the Lion – along with other events around the ballpark will take place during each RBC We Care Wednesday. Stay up-to-date with event plans for each RBC We Care Wednesday by clicking here or visiting the "Community" tab on CanadiansBaseball.com and selecting "RBC We Care" from the dropdown menu.
About RBC
Royal Bank of Canada is a global financial institution with a purpose-driven, principles-led approach to delivering leading performance. Our success comes from the 97,000+ employees who leverage their imaginations and insights to bring our vision, values and strategy to life so we can help our clients thrive and communities prosper. As Canada's biggest bank and one of the largest in the world, based on market capitalization, we have a diversified business model with a focus on innovation and providing exceptional experiences to our 17 million clients in Canada, the U.S. and 27 other countries. Learn more at rbc.com.
We are proud to support a broad range of community initiatives through donations, community investments and employee volunteer activities. See how at rbc.com/community-social-impact.
Aperçu de RBC
La Banque Royale du Canada est une institution financière mondiale définie par sa raison d'être, guidée par des principes et orientée vers l'excellence en matière de rendement. Notre succès est attribuable aux quelque 97 000 employés qui mettent à profit leur créativité et leur savoir-faire pour concrétiser notre vision, nos valeurs et notre stratégie afin que nous puissions contribuer à la prospérité de nos clients et au dynamisme des collectivités. Selon la capitalisation boursière, nous sommes la plus importante banque du Canada et l'une des plus grandes banques du monde. Nous avons adopté un modèle d'affaires diversifié axé sur l'innovation et l'offre d'expériences exceptionnelles à nos 17 millions de clients au Canada, aux États-Unis et dans 27 autres pays. Pour en savoir plus, visitez le site rbc.com.
Nous sommes fiers d'appuyer une grande diversité d'initiatives communautaires par des dons, des investissements dans la collectivité et le travail bénévole de nos employés. Pour de plus amples renseignements, visitez le site rbc.com/collectivite-impact-social.
About the Vancouver Canadians
The Canadians are the High-A affiliate of the Toronto Blue Jays and the only affiliated Minor League Baseball team in Canada. Since this iteration of the C's arrived in Vancouver to begin the 2000 season, the franchise has been crowned Northwest League Champions four times (2011, 2012, 2013, 2017) and been home to over 125 future Major Leaguers. C's games are broadcast live on Sportsnet and MiLB.TV. Follow the Canadians via CanadiansBaseball.com and @vancanadians across social media.